Poe's Lighthouse, by Christopher Conlon
Book Review by Benjamin Boulden
Edgar Allan Poe is one of the most recognized of American writers. His poetry and prose has mesmerized and frightened generations of readers, and his tragic life story is, perhaps, even more alluring to the modern reader than are his stories. He was an alcoholic. His drinking increased to frightening levels after his young wife, Virginia, died of tuberculosis and he attempted to kill himself on one occasion by taking laudanum. His life was tragic, but his writing has become that which the work of others is compared. He was a true master of the macabre, and all of his writings have remained in print to this day, except one unfinished manuscript he wrote shortly before his death.

In Poe's Lighthouse, edited by Christopher Conlon, twenty-three modern horror, science fiction, and mystery writers tackle Poe's final tale. The story, or the fragment, is written in diary format with Poe's unmistakable cadence and style. "This day--my first in the light-house--I make this entry in my Diary, as agreed on with De Grat. As regularly as I can keep the journal, I will--" Poe goes on to describe a man who was once an elite, perhaps even a noble, who has fallen on hard times. He has retreated to a lighthouse to escape the world, and perhaps more importantly, his place in that world. His only desire is to be alone, and as Poe seemingly hints, it is this desired solitude, aloneness, that will ultimately betray and destroy his protagonist lighthouse keeper.

The stories contained in Poe's Lighthouse were intended to be collaborations with Edgar Allan Poe--the writers were asked to use Poe's own words, descriptions, setting, and characters within the stories they wrote. They could take the story in any direction, but they must use the lighthouse, and Poe's fragment as a device in their own narrative. The stories fail if you view them strictly as collaborations--they are, with a few exceptions, the visions of their modern authors and contain very little of the voice and style of Edgar Allan Poe. This is not to say they are not unique, or entertaining, because many of them are, but they very much belong to the collaborator rather than Poe.

Like most anthologies Poe's Lighthouse is a mixed bag. The stories range from wonderfully tight and well plotted to, in layman's terms, half-baked. Of the 23 stories, six are truly excellent, fourteen are good or at least competent, and three are abysmal. The stories range from adventure, to horror, to science fiction.

The anthology begins with John Shirley's very strong "Blind Eye." Shirley adeptly takes Poe's style and voice--he uses the journal narration of Poe, and simply completes the story. The reader is challenged to discover where Poe's words end, and Shirley's begin. The plot is closely aligned with Poe's opening lines, but to go any further would risk giving too much of this rewarding story away.

The other truly excellent stories in this anthology are: Elizabeth Engstrom's moody, surreal and very frightening, "Deep Into the Darkness Peering"; Tim Lebbon's eerie and well told story of dark fantasy, "The Flames Beneath the Light"; Richard A. Lupoff's thought-provoking excursion into a sentimental past, "Fourth Avenue Interlude"; Gary A Braunbeck's very modern and very fantastical story of grief and loss, "Fisherman's Delight"; and Michael A. Arnzen's tale of revenge and torment, "The Dead Lantern."

The better of the stories tend to lean away from Poe's narration and tell their own stories; they are the visions of their modern author's rather than a revamped "what would Poe have written?" version. They grapple for their own purchase, for their own tales and characters. They create a world that is unique and excites the reader's imagination into understanding and awe. The exceptions are the before mentioned John Shirley story, and Elizabeth Engstrom's vivid and telling portrait of a tormented Edgar Allan Poe as lighthouse keeper.

The weakest stories--"The Riches There That Lie" by Carole Nelson Douglas, "So This Guy Walks Into a Lighthouse" by Kage Baker, and "A Passion for Solitude" by Earl Hamner--are all poorly focused, partially developed story-lines that never quite get to where they are going. They are slack and very nearly dead on arrival. Carole Douglas's story in particular, an adventure mystery starring a swash-buckling cat named Midnight Louie, is so ill fitting to this anthology that it nearly derails the entire project. Do yourself a favor, and if you insist on reading this story, or any of these three stories, know that they are not representative of the quality for the rest of the anthology.

Overall Poe's Lighthouse is a worthwhile read--keep your thumbs ready to shuffle through the slow patches and enjoy. The stories tend to be fun, literate, and illuminating on not only Edgar Allan Poe, but on our modern world as a whole. It is a journey well worth taking, but be-warned of the potholes, because they could very well ruin your visit.
Click here to buy Poe's Lighthouse, by Christopher Conlon on Amazon
Poe's Lighthouse, by Christopher Conlon on Amazon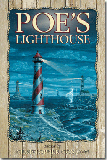 More Books You Might Like
Comment on Poe's Lighthouse, by Christopher Conlon
Comments on Poe's Lighthouse, by Christopher Conlon
There are no comments on this book.