The Good, The Bad, and the Undead, by Kim Harrison
Book Review by Steven Sawicki
This is Kim Harrison's follow up book to "Dead Witch Walking" which introduced the character of Rachel Morgan and her vampire roommate, Ivy. Fans of Laurell Hamilton's Anita Blake series will find this a familiar world full of vampires, werewolves, faeries, trolls and all the other creatures from the other side. In Harrison's world, these creatures of myth exert a bit more control with humans acting the lesser species and needing to find a way to maintain some modicum of power. It is in this milieu that Harrison's characters move and work.

Rachel Morgan is a private detective-a just starting out private detective which goes a long way to explain the cases she gets hired for. And the book is essentially Morgan following a single case, that of the murder of Ley Line Witches. Morgan is approached by an old friend to serve as a consultant on the murder case although she quickly finds ways to both use her intelligence and belligerence to create solutions and problems. There's a subplot involving Ivy and her battle to keep from becoming a full fledged vampire and a minor subplot involving a former adversary. Harrison keeps all three of these boiling, although the latter plot falls a bit weak at times and could probably have been reduced to less important status.

The world is interesting although at times it begs more questions than it answers and the characters need a bit more work to flesh them out as, at times, they seem to be motivated more by the writer than by any internal or natural forces. There's also a forced levity that jars in places. It's not needed. But these are minor points in the scheme of what turns out to be a pretty good read.

Anita Blake fans will find a lot to like here. Crossover fans will be equally well served and if you're just looking for a decent, fun time then you should partake as well.
Click here to buy The Good, The Bad, and the Undead, by Kim Harrison on Amazon
The Good, The Bad, and the Undead, by Kim Harrison on Amazon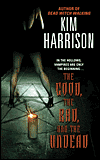 More Books You Might Like
Comment on The Good, The Bad, and the Undead, by Kim Harrison
Comments on The Good, The Bad, and the Undead, by Kim Harrison
Posted by Dustin Phillips on 4/21/2005
I couldn't put the book down, I think there should be a movie on it
Posted by Michelle Shaw on 1/25/2005
Wonderful read. Once i started i couldn't put it down. Kim harrison is extremely talented and i look forward to reading more of her books. Move over anita blake your have major competition.