The Other Log of Phileas Fogg, by Philip Jose Farmer
Book Review by Michael D. Griffiths
The great Phileas Fogg was first made famous by Jules Verne's novel Around the World in Eighty Days. As we know, in the original novel Fogg makes a bet that he can circle the globe in less than eighty days. This book reenacts that familiar journey, but Farmer also revels what is hidden behind the scenes, in particular the interaction between two ancient races of aliens that are using humans to continue their revelry and timeless battle.

Fogg and his butler are members of one of these races while Captain Nemo and Detective Fix are members of the other. As the journey around the world retraces the Verne novel, Farmer also adds the battles and intrigue that occur between these rivals. There is also a device called a Distorter that allows individuals to teleport to other Distorters. These surviving artifacts from space are highly valued by both sides and part of the motivations of their conflicts.

This is an interesting concept and Farmer certainly took on an impressive project here, which has already become a series of four books. Farmer attempts, and in most cases pulls off, the Victorian feel of the original novel. Despite the quite heightened level of science fiction he introduces, Farmer also manages to maintain the feel of Verne's novel as well.

Introducing Nemo as a Villain was a nice touch and Farmer has also moved this series deep into the Steampunk genre. The adventure is there, but also very proper and British, which can be good for a few chuckles.

Downsides for me included the fact that I have not read Around The World in Eighty Days for almost forty years. For a person with more time than myself, it would have been fun to read them back to back. If this is not done, I think some of the subtleties and inside jokes will be lost to the reader, which is a shame.

This book is fast paced, inventive, and enjoyable. I think all fans of Verne in particular will find a real gem here. Farmer sets out to rewrite a well known classic, which can be a dangerous and risky pursuit, and pulls it off nicely. All lovers of classic science fiction and Steampunk should consider giving this one a try.
Click here to buy The Other Log of Phileas Fogg, by Philip Jose Farmer on Amazon
The Other Log of Phileas Fogg, by Philip Jose Farmer on Amazon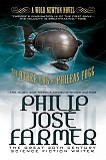 More Books You Might Like
Comment on The Other Log of Phileas Fogg, by Philip Jose Farmer
Comments on The Other Log of Phileas Fogg, by Philip Jose Farmer
There are no comments on this book.