Articles of the Federation, by Keith R.A. DeCandido
Book Review by Susie Hawes
This novel features the characters and universe of Star Trek, Star Trek: The Next Generation, Star Trek: Voyager, Star Trek: Deep Space Nine and Star Trek: Enterprise. The events in this novel follow those in the movie, "Star Trek Nemisis", and in the novels "A Time for War, a Time for Peace", "Death in Winter", and "Titan: Taking Wing". Articles of the Federation includes an appendix listing all the known Presidents of the United Federation of Planets, a nice bonus for Star Trek fans.

Articles of the Federation follows the first year of the Administration of President Nan Bacco. The Dominion War is over and the political debacle of the Tezwan incident has caused the former president of the Federation, Min Zife, to step down. After a hurried election, President Baco takes office amidst controversy and is immediately confronted with political mistrust, intrigue and a generally hostile and difficult environment. She is fairly inexperienced in governing so large a political body as the Federation. Her position as planetary governer before the Presidential win leaves her with little basis for governing over one hundred and fifty planetary civilizations, with their attending colonies.

Pres. Baco is confronted with turmoil among the Romulan Star Empire, with the appearance of a shipload of Remans seeking assylum. Her life is further complicated by a First Contact that quickly dissolves into a disasterous incident, and by the aftereffects of her predesessor's Tezwan involvement. The Federation Council is slow to support her, and the public highly critical of her efforts. As she struggles to resolve issues that effect the lives of the citizens, President Baco finds herself unindated with conflict, hostility and developments that are potentially dangerous.

Plotting in this novel is strong, and character development a definite plus. We get inside the minds and emotions of these people as they work toward their goals or deal with difficulties. The internal logic rings true, and the attention to detail in this novel is wonderful. There are moments of drama and emotion that make this a good read.

The pacing lags, however. The plot is slow to build and action takes back seat to discussion and exposition. The result is a lack of forward movement that interferes with the dramatic tension needed in this story. I found myself skimmimg to get to the meat.

It has all the bells and whistles of a good Star Trek novel, with thoughtfully chosen quotes, solid characters and strong plotting. If you're a Star Trek fan, or if political intrique is your thing, pick this one up. But it needs the intensity a great novel should have.
Click here to buy Articles of the Federation, by Keith R.A. DeCandido on Amazon
Articles of the Federation, by Keith R.A. DeCandido on Amazon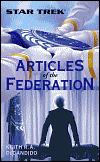 More Books You Might Like
Comment on Articles of the Federation, by Keith R.A. DeCandido
Comments on Articles of the Federation, by Keith R.A. DeCandido
There are no comments on this book.