Awakening: The Art of Halo 4, by Paul Davies
Book Review by Michael D. Griffiths
Awakening: The art of Halo 4 is quite an impressive undertaking. It is a majestic oversize hard covered book that dazzles the eye. Now, as I have said before, I am not much of a video game player. I barely even know what Halo is about. Between that and no having television, I am dangerous out of the loop here, but that does not keep me from appreciating fine works of art and that is what this giant book is all about.

Not many words clutter and confuse the viewer here. The reader, and I guess I use that term loosely, is invited to just sit back and absorb the intensity that the artists create. Visions of alien landscapes and twisted levels of high tech remind one of Geiger. In many of the panels, the human figures seem small and insignificant, almost reminiscent of classic Chinese water colors.

Many of the pieces have pillars of high tech structures suspended from above and thrusting down, instead of leveled with the ground and reaching up. I found this more unique technique interesting and inspiring in many cases.

The artwork itself was tight, but allowed itself a certain freedom as well. I think fans of the game as well as those that enjoy science fiction artwork would find something to marvel over here. Other things like weapons, character compositions, and other in depths looks at the game's archetypes can also be found here.

Possible downsides, apart from me knowing nothing about the game, could include that I might have liked to see more of the villains and monsters that I imagine the game has. Also, I found it odd that the women are lean and sexy, but yet the men conceal their faces. I understand this could help the players relate to the figure, since it could be them under there, but it is still seemed slightly sexist. What if a female would like to play?

Overall, anyone that loves Halo will love this well-crafted book. If you cannot get enough of the game, this graphic explosion of artwork could be just what you need. It is a powerful ride and its crisp and clean pages should impress most lovers of science fiction oriented art.
Click here to buy Awakening: The Art of Halo 4, by Paul Davies on Amazon
Awakening: The Art of Halo 4, by Paul Davies on Amazon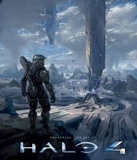 More Books You Might Like
Comment on Awakening: The Art of Halo 4, by Paul Davies
Comments on Awakening: The Art of Halo 4, by Paul Davies
There are no comments on this book.