Cthulhu Australis, Volume Two, by David Conyers
Book Review by Jeff Edwards
David Conyers is at it again, depicting Australia as a land of monsters and madness in Cthulhu Australis, Volume Two. And once more, he demonstrates his skill at blending the Mythos with the modern, delivering character-driven pieces as "literary" as they are Lovecraftian: In Conyers' stories, ancient gods and cosmic horror are symbolic stand-ins for inferiority complexes and social alienation.

The chapbook opens with "A Shared Romance," in which a young man loses his girlfriend to someone - or something - else. When Mark comes home from work early, he doesn't find Amy locked in the bedroom with another man; instead, he finds her locked in the bathroom with a hunk of rotten meat and hundreds of flies. Vaguely aware of Amy's physical changes ("her skin...felt dry and rough") but preoccupied with her odd behavior, Mark continues to suspect his girlfriend of taking on a new lover, and his imagination proves eerily prescient: "In my mind she worshipped him, to the point of devotion where she had forgotten that I ever existed." At the tale's conclusion, Mark's thoughts reflect the sense of helplessness any man might feel when his mate shows interest in somebody "better."

Next, Conyers touches on the issue of homelessness. In "Vanishing Curves," a young woman dreads returning to her apartment late at night because a street kid often loiters outside her building. Repulsed, Zoe considers it "inconceivable that people drove themselves to such levels of destitution," and vows she'll never "let it happen to her." But after shoving the boy in order to pass by, Zoe discovers a "blackness" on her hands and quickly loses her perception of time, space, and reality. As Zoe slips into her own personal hell, the author makes an important statement in the guise of dark fiction: Perhaps the homeless deserve our sympathy and compassion rather than our disgust and fear.

Conyers closes the book with a Yellow Sign tale. In "The Swelling," a pleasure cruise ends in tragedy when a man murders his daughter and then throws himself overboard. Left behind to cope with the loss of her entire family, a woman embarks on a perilous journey to the fabled city of Carcosa. Describing the ordeal as "a memory that was a dream turned inside out," the author includes claustrophobic nightmare imagery like a ship's lower level full of "labyrinthine turns and dead ends" with "no doors or portals...only stairs and corridors that echoed endlessly."

In Cthulhu Australis, Volume Two, David Conyers reminds us that Lovecraftian creatures lurk in places other than antiquated New England towns. Conyers expands the idea even further in "The Spiraling Worm," his recent collaboration with John Sunseri: The co-authors pit man versus the Mythos worldwide.
Click here to buy Cthulhu Australis, Volume Two, by David Conyers on Amazon
Cthulhu Australis, Volume Two, by David Conyers on Amazon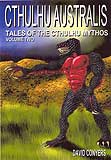 More Books You Might Like
Comment on Cthulhu Australis, Volume Two, by David Conyers
Comments on Cthulhu Australis, Volume Two, by David Conyers
There are no comments on this book.