Deadhouse Gates, by Steven Erikson
Book Review by Howard von Darkmoor
While it is the second book in The Malazan Book of the Fallen, Deadhouse Gates could be a standalone novel. I recommend reading book one first, but it's not necessary in order to enjoy this follow-up. Erikson sticks to what he does best: a fast and furious plot bursting with action (but these aren't simply Salvatore swordfights); great characters on both sides of "right" and "wrong" (which are hard to define in this series to begin with -- think Glen Cook and "The Black Company" magnified tenfold); terrific world and culture creation (has history ever been this fun to read?). This is a terrific read, the next step in what appears to be a defining fantasy series. Deadhouse Gates did not have any slow spots where plots and events bogged down (like were found in "Gardens of the Moon"). I enjoyed the book quite a bit, but I must say that I loved "GOTM" and am glad that it was first in the series.

While some characters were common to both books, I look forward to book three and a return to the original cast met in book one. It seems Erikson has created an awe-inspiring series by the tributes of the accolades and reviews for each of his books that I have read. His writing is heavy, his characters deep, his action and magic immense, his background details, well, detailed. If you like reading fantasy only over the weekend, Steven Erikson is not for you. If you do not enjoy powerful figures battling other powerful figures (whether via steel or spell doesn't matter), these books aren't for you. If you love a good story (with lots of complex subplots) and great fantasy (what's more fantastical than gods walking the dirt and enemies floating through the sky in dirt fortresses?), start buying The Malazan Books of the Fallen now. I would certainly recommend Deadhouse Gates by Steven Erikson to my friends!
Click here to buy Deadhouse Gates, by Steven Erikson on Amazon
Deadhouse Gates, by Steven Erikson on Amazon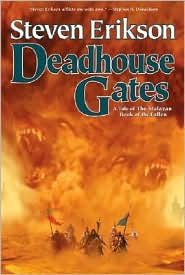 More Books You Might Like
Comment on Deadhouse Gates, by Steven Erikson
Comments on Deadhouse Gates, by Steven Erikson
There are no comments on this book.