Fantastic Stories of the Imagination, by Warren Lapine
Book Review by Edward F. McKeown
Fantastic Stories of the Imagination is Warren Lapine's new anthology, taking an SF magazine sensibility into the anthology market. He brings 14 very diverse stories by a wide range of authors from great masters such as Mike Resnick and Harlan Elision to more recent discoveries (at least to me). Fans of the Liaden universe will be glad to see a Sharon Lee and Steve Miller story.

The tales go from pure science fiction through to urban fantasy. There is no theme to the anthology though many of the stories deal with the intersection between man and machine and the question of where one leaves off. Most of the stories deal with ethical and moral issues characters face, about when to intervene in someone else's life or situation. Love is encountered, succeeds, disappoints, fails and rises from the ashes as we learn to cope, to hold and to release.

These stories do not disappoint. In reviewing the ones below I applied my peculiar standard which is that it matters little whether I personally like a story but rather whether I felt the author was successful at telling their story. Likes vary too much. Still I am pleased to report there were no stories that I didn't like, this was a strong field worthy of Churchill Downs and no nags started this race. Some appealed to me more and a very few a bit less but those were due to personal preferences, as Warren observed he does not generally care for Steampunk or religious stories yet both are present in here. So one's preferences should always be balanced with IS THIS GOOD? WAS IT SUCCESSFUL? As an editor myself I have published stories that I did not like, where the author took a character to a place I personally did not believe the character would go. But I accepted it because it was valid, it was well-written and it belonged. As an editor you want to avoid making all the work sound like yours or your favorite authors. You need to keep room for pieces that defy your expectations. My guess is Warren felt the same.

Full disclosure: I have met Mike Resnick socially and been published by Sharon Lee and Steve Miller.

The first story "Interface Patterns" by Kelly McCullough introduces some interesting technology in a future so dominated by computer assistance in daily living as to make the most wired of the latest generation look like Luddites. This is a crime story with an interestingly dark protagonist who may identify a little too much with the other side. Believe me, you will feel the impact of the end of this piece. Usually I am not a fan of virtual reality stories but this one is anchored in blood and pain and will not be confused with a bloodless "holodeck" adventure. VR bites hard in this piece.

Harlan Ellison's "A Tiny Man" simply has to be read and experienced and I am not quite up to the task of explaining it to you. Madness and genius with two different endings, you will think of this one for a long while after. There is biting satire; an unusual first person narrator addressing the reader, and the perspective is at once intimate and distant. Is it a metaphor? A satire? A tale of Frankenstein in miniature, or have I followed Alice too far down the rabbit hole? All I can tell you it is damn good. Read it and wish you could write this. I did.

"Steaming Into Wonderland" by Douglas Cohen Well I swear that when I mentioned Alice in the proceeding note I had no idea I would literally be going down the rabbit hole with her in Douglas Cohen's work. I must confess to never having read Alice in Wonderland and now I think that if I do I will find it dull by comparison with this romp through a most unusual wonderland. The Matrix meets Dungeons and Dragons and no one is quite what they seem. The real world references to Suicide Kings are sly reminders that this is not Lewis Carroll yet the voice is kept so well in tune that you may forget. Again, I have not read Carroll but Alice permeates that culture and no one now escapes Disney and the Mouse that Roars so it is certainly what I think of as Alice and probably truer to the original than many of the later movies.

"The Digital Eidolon That Fits In Your Pocket" is Trent Zelazney's entry. This is the first piece in third person and makes a nice break from the first person perspectives of the other stories. It is a daringly written piece about the converse of all those wedding videos you see these days documenting the couple's courtship. It features an encounter with a very peculiar salesman, a staple of encounters on the edge of the Twilight Zone. This story generates a real fear that, like the movie Gattaca, it presages a technology that is nearly upon us and that someday in the not too distant future, a salesman might offer you this item, and change the way in which we deal with the final arbiter of our existence, Death. Don't look up Eidolon until after you read the story. The tone changes from ironic to chilling, and we are left with a question of who or what the Salesman is and how true his claims are. I would have liked a little more on that Salesman but if your worry is that you wanted to stay in a story after it ended that's a good thing.

Riding the Bus by Tom Piccirilli is written with a fine New York sensibility that comes with an accent in your head (full disclosure I am from New York) and that sense of coping with impossibility that is a daily feature of life in New York. I actually laughed out with joy and enthusiasm with this noir-toned tale. I'd like to buy Tom a beer at some point. This was the first piece of the anthology that didn't deal with us and technology at sword's points. It was more about the classics of human life, hope and death. A well-written piece and whatever you think you see coming will not detract from it when it arrives.

"Sluggo" by Mike Resnick. If I laughed aloud in Ton Piccirilli's story, as I write this, tears sting my eyes at Mike Resnick's "Sluggo" a tale of loneliness and isolation with hope sprinkled on it. Yet the hope is not the one you expect and the bargain made is not the common one. A true friendship is the most valuable of commodities and love in whatever form it arrives is never to be despised or traded away. Dammit, I need a moment here...

The Swap by Barry Longyear. I needed an emotional break after Sluggo and found it in The Swop, this was a simply fun, though not simply written, tale of revenge and closure and the consequences of the lies we tell ourselves. The setting of Carlsbad Caverns made for an additional interest in this amusing tale of characters on the road of the afterlife.

Starwisps by Edward J McFadden. This tale takes us off our Earth for the first time into a fantasy world with an unlikely airship called the airscrew and Prince trying to save his people. This loosely Steampunk tale put me in mind of the works of Jack Vance in the Dying Sun series though less cynical and bitter. In the end it is the tale of a Prince and a Commoner there is a chance of happily ever after and they have a dog. What more could you ask for?

Custody by Jay O'Connell. Even the undead have family problems in this fast moving take of Mom, Dad and a the teenager whose going to drive them both crazy. This story features an immediacy and point of view that will remind you of True Blood and Sookie.

Haircut by Shariann Lewitt, is a powerful story of a young woman making a choice, I realized that I let out a pent up breath when she did, I was that relieved. I think that tells you most of what you need to know about this involving work. If you need more, well the story deals with life and death and the issue of at what point we trade what we were given by God (or random chance if you are an atheist) for what science can give you, when you do not HAVE to, when you are healthy.

A Cry for Hire, by Carole McDonnell, this piece deals with the intersection of fantasy and religion, a difficult address at the best of time. McDonnell uses a large old house that opens on to other realities and a woman caught in the hypocrisy of her marriage and religion as she reinterprets her life through the boy she meets in another world. Shades of CS Lewis and Orson Scott Card flavor this outing.

And What Were Roses? by Mary A Turzillo is a love story, human and mutant and the issue of whether love can survive the differences. In here too is an interesting issue on revenge. It's said that an alcoholic must give up alcohol for themselves not for the good of another, and it seems the same can be said of revenge and hatred. You must do it for yourself or you will take to the bottle or the bomb again.

A Box in My Pocket by Amy Sundberg. Another sweet tale of longing and loss that will make your eyes sting if you have ever lost anyone. Sometimes the things we try to hang onto hardest are forced through our fingers. Maybe the thing we want to hang onto is not good for us to keep. It's a real world issue we all face and will make you think.

Starblaze by Sharon Lee and Steve Miller. The anthology wraps up with the only other story to be set entirely off our world, an SF piece of the Liaden universe of Lee and Miller, known for having its own extensive following. Here we find out that the experience of a taxi driver is a universal constant. You never know what can happen when you pick up a fare.

Because this story cannot explain the Liaden universe in its complexity, you may want to look up some information on it. Liaden are humans but culturally they are very Japanese or for readers of CJ Cherryh rather like the huge Atevi of her Foreigner universe. This is a complicated read so pay attention there is a whole universe in here and it is not casually followed. Honor and integrity battle consequences in this tale of a driver who goes to the nth degree for her fares.
Click here to buy Fantastic Stories of the Imagination, by Warren Lapine on Amazon
Fantastic Stories of the Imagination, by Warren Lapine on Amazon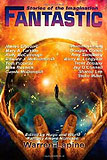 More Books You Might Like
Comment on Fantastic Stories of the Imagination, by Warren Lapine
Comments on Fantastic Stories of the Imagination, by Warren Lapine
There are no comments on this book.