TNG: A Time for War, A Time for Peace, by Keith R.A. DeCandido
Book Review by Jason Garza
To everything there is a season...and there is an ending. And what an ending it is. DeCandido, tasked with wrapping up most of the plot threads left dangling carelessly by the tepid "Nemesis," manages to write one hell of a gripping yarn in a scant 334 pages.

The epilogue is, by definition, the conclusion to a literary work. And here is an epilogue clocking in at 336 pages, the ninth and final novel in the "A Time to..." series. But referring to it merely as "the epilogue" is something of an injustice, like referring to "The Great Gatsby" as debauch. That said, DeCandido's task is by no means an easy one.

There are several things still left unanswered from the previous books that were dropped onto us in the rather bland Nemesis; DeCandido manages to answer most, if not all, of them. We begin with Ambassador Worf learning of Min Zife's resignation and the siege of the Federation Embassy on Qo'nos. With Enterprise learning it will the subject of an inspection tour, ostensibly to prove her captain is fit for a "post-war Starfleet." With a planetary governor running against a Federation Special Emissary for the highest office in the Federation. With Riker and Troi arguing with Lwaxana about their impending nuptials. And that is the tip of the proverbial iceberg.

With quite a bit of ground to cover, it is somewhat amazing to see the rather palatable page count. However, in those 336, DeCandido weaves a fantastic set of stories that will bring the Federation and Starfleet into a new era—one of the two mentioned on the cover, though I'll let you discern which. Martok, Kahless, and Scotty make cameos, as do a few old nemeses of certain Enterprise officers. Ultimately, this is a setup not only to "Nemesis," but also to the varied futures of the Enterprise crewpersons; a springboard of sorts.

DeCandido writes, as always, an intelligent and satisfying novel that will appeal to fans across the board, from casual reader to devout Trekkie. Clearly, DeCandido loves his Klingons, for they are always artfully handled in his novels, but he treats the other characters in A Time for War, A Time for Peace with equanimity; he proves, once again, that he is a masterful modern-day storyteller. Balancing the precariousness of the special election with the feelings of various Enterprise crewpersons is a great literary touch, the sort of metaphor that works on many levels. With political parallels between the Federation, the Klingon Empire, and Starfleet, this is a great novel that is the perfect end to a saga and the beginning of a new one.
Click here to buy TNG: A Time for War, A Time for Peace, by Keith R.A. DeCandido on Amazon
TNG: A Time for War, A Time for Peace, by Keith R.A. DeCandido on Amazon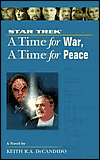 More Books You Might Like
Comment on TNG: A Time for War, A Time for Peace, by Keith R.A. DeCandido
Comments on TNG: A Time for War, A Time for Peace, by Keith R.A. DeCandido
There are no comments on this book.