TNG: Titan 3 Orion's Hounds, by Christopher L. Bennett
Book Review by Jason Garza
Orion's Hounds, when it was announced, came with a notation: it was about the constellation, not the species. Which means that, after a trip to Romulus and a side trip to the far side of the galaxy, Titan can finally explore. Going forward on their mission, things appear normal until Troi hears a plea for help; somewhere, something familiar is being killed. It is at this point one will need to watch "Encounter at Farpoint" and remember the awesome power of the star-jellies; granted, Christopher L. Bennett does a fantastic job of exploring their abilities and powers, but it's also rather jarring to see how far the former first officer and counselor have come since then.

But, back to the novel. It is a densely packed read, introducing not only four entire new alien species, but shedding light onto the "cosmozoan" life forms encountered throughout the various Trek series'. Perhaps most fascinating of all is the introduction of the Pa'haquel, a society of hunters who view existence as a great Huntómaking their homes in the corpses of star-jellies. Titan jumps in the middle of a Pa'haquel-star-jelly conflict early on, resulting in a dramatic shift in the balance of power, skewing "the Hunt" in the eyes of a Pa'haquel elder, Qui'hibra, an honorable man brought into a conflict between his spiritual beliefs and the new ideas brought forth by the crew of Titan. Indeed, the crisis of faith is well-balanced against that of Commander Jaza's own beliefs in the prophets, and is also a powerful allegory of current belief structures in the twenty-first century.

Bennett manages to bring into the picture everything from the star-jellies to the deadly crystalline entities, who themselves offer a series of possibilities that will ultimately run counter to everything the Pa'haquel believe in. Bennett further delves into the "lower deck" characters (a term which should in no way diminish their importance) from the Cardassian Cadet Dakal to the Pak'shree K'chak'!'op and the love struck Kent Norellis. The dynamic between Melora Pazlar and Tuvok is shifted in a dramatic way, as is the life of one Irriol Orilly Malar, a character who initially comes off as another telepathic write-off but ultimately proves that she is a fine Starfleet officer.

While Orion's Hounds is indeed a true continuation, it can also serve as a good starting point for new readers if they so choose. Full of wonderful civilization building, characterization, and several thematic plots, Christopher L. Bennett juggles a wealth of ideas, characters, emotions, and actions resulting in a gripping tale of suspense, devotion, betrayal, and what it means to be part of some greater balance.
Click here to buy TNG: Titan 3 - Orion's Hounds, by Christopher L. Bennett on Amazon
TNG: Titan 3 - Orion's Hounds, by Christopher L. Bennett on Amazon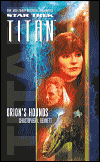 More Books You Might Like
Comment on TNG: Titan 3 - Orion's Hounds, by Christopher L. Bennett
Comments on TNG: Titan 3 - Orion's Hounds, by Christopher L. Bennett
There are no comments on this book.