The Icebound Land (Ranger's Apprentice, Book 3), by John Flanagan
Book Review by Scott Baird
This is Aussie John Flanagan's third fantasy novel of the Ranger's Apprentice series, and it's good enough to make me want to read the rest of the books. I jumped in on book three because it looked interesting, and it turned out to be everything I'd hoped. This young adult novel is accessible, engaging, and memorable.

The plot revolves around a young Ranger (an order of expert warriors that are sworn to protect their kingdom) who has been captured along with his female friend Evanlyn. While they are taken across the sea to be sold as slaves, Will's mentor Halt teams up with another warrior to mount a rescue attempt.

I was pleasantly surprised at the quality of the writing. It is very easy to get into and keeps moving at just the right rate, which should be expected from the author's background in television. The book is challenging as well, with several fresh and original plot twists that keep you guessing, and it builds an intelligent vocabulary of terms and concepts that are historically accurate (even though this is fantasy) and true to life (characters get seasick, struggle with addictions, etc.).

The Icebound Land deals with several wonderful themes that basically center around loyalty: Which loyalties take precedence over others? How far should you go for certain loyalties? Where does loyalty to self fall in the hierarchy? With characters that you quickly come to identify with and care about, in a realistic yet exciting fantasy world, the answers to these questions are gradually developed and presented, but ultimately the reader is left to decide.

My only concern with the book was that it felt somewhat incomplete and abrupt at the end. Obviously it is part of a series and you have to read on to follow events farther, but the book did such a good job of drawing me in and endearing characters to me in the beginning that I hoped it would end in a more self-contained way as well. I guess I'll just have to start at the beginning of the series and get the entire story.
Click here to buy The Icebound Land (Ranger's Apprentice, Book 3), by John Flanagan on Amazon
The Icebound Land (Ranger's Apprentice, Book 3), by John Flanagan on Amazon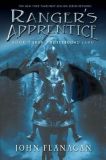 More Books You Might Like
Comment on The Icebound Land (Ranger's Apprentice, Book 3), by John Flanagan
Comments on The Icebound Land (Ranger's Apprentice, Book 3), by John Flanagan
Posted by Dave on 1/16/2009
My 9 year-old son is totally into these books and at his insistence I've been reading them. He devoured all 5 as quickly as he could get them and spent a goodly amount of time running around wearing his Halloween costume cloak after. I'm halfway through book two, and while they are enjoyable, they are simplistic; forgivable, since they are targeted at about 12 years or younger. The only thing that really bothers me consistently is Flanagan's use of the metric system for his weight and distance measurements. It's very jarring to read a story set in a fantasy, medieval setting, and then stumbled across meters, kilometers, and kilos. "We have 20 kilometers to go," said the ranger. He even says "klicks" sometimes to shorten it. That's even worse. How hard would it have been to convert to the old English measurements?