13th Zookeeper, by Bernd Struben
Book Review by Allen Stein
Zooearth is a re-creation of stone-age Earth, made to preserve Earth's biological heritage. It is watched by twelve Zookeepers, who work from an orbital base, with the help of shuttles called blimpies and an extensive net of spybots. Then the pirates arrive, armed with a nasty virus that can infect people and computers both, as well as more conventional lasers and plasma cannons. The zookeepers and machines are neutralized.

But wait, if you order now, you also get the 13th zookeeper, a ne'er do well, poor little rich kid named Auren Bilder. Auren had been fired for "fraternizing" with Zooearth's humans, to whom he is a god. The pirates are out to enslave these humans.

Auren is not a nice person: He spooked a poacher into running into his own mono filament trap, then watched him die. He wrote himself out of the computer net ("ZOSS") and ran for the planet. He supposedly left months ago. He really doesn't want to help. But, with "encouragement" and help from the "natives", the pirates get a nasty surprise, and the local equivalent of the prime directive is torn into little tiny pieces.

The thing is well told; I would read more by this author. He is Dutch, though educated in the United States, and has written at least one other book, which is called 40 Years.
Click here to buy 13th Zookeeper, by Bernd Struben on Amazon
13th Zookeeper, by Bernd Struben on Amazon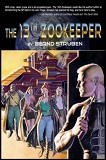 More Books You Might Like
Comment on 13th Zookeeper, by Bernd Struben
Comments on 13th Zookeeper, by Bernd Struben
There are no comments on this book.