A New Birth of Freedom: The Visitor, by Robert Pielke
Book Review by Paul Weiss
The eternal paradox of time travel!

Is it possible to change the past without altering or de-constructing the present and its relevant future beyond recognition?

Despite almost certain failure, Edwin Blair, an academic from the 22nd century studying 19th century American history, has been assigned the task of visiting the USA, war torn and hemorrhaging from the self-inflicted wounds it is suffering in the bloodiest conflict in its history, the American Civil War. A cataclysmic battle in earth's distant future with a space-faring civilization, from which humanity escaped alive by the narrowest of margins, has left behind the intelligence that the invaders will return to earth. They will be landing in the middle of the Battle of Gettysburg, the bloodiest conflict of the Civil War, on the morning of July 3, 1863. Against all odds, with the help of a skeptical President Lincoln, Blair must persuade the commander of the Union's forces, General Meade, and his confederate opponent, General Robert E Lee, to cease hostilities to deal with invaders from another planet - a threat that they could not even begin to conceptualize let alone combat.

A NEW BIRTH OF FREEDOM is a provocative blend of genres - speculative fiction, sci-fi and alternate history - that brilliantly uses the irony of slavery and prejudice in early America as a springboard to deal with considerably less obvious sociological issues that Pielke is convinced mankind will ultimately face - alien first contact and communication. Convinced that Noam Chomsky is mistaken when he suggests that we will be unable to communicate with entirely alien species and refusing to accept Stephen Hawking's much-publicized fears about the dire results of alien knowledge of our existence in the cosmos, Pielke addresses the ultimate question of how we will deal with the extension to an alien species of what we consider to be inalienable rights appropriate for humans and humanity.

Pielke's writing style is exceptionally warm, pastoral and easy-going yet utterly absorbing and fascinating. A wealth of period detail immerses the reader in the minutiae of life during a turbulent 19th century America, a time when it was questionable whether the word "United" would ever be attached to the word "States". Long time fans of classic sci-fi will joyfully reminisce about their favourite stories from the likes of HG Wells, Clifford D Simak or Isaac Asimov and sigh with gratitude at the realization that these writing giants' ability to combine unforgettable story-telling with thought-provoking social commentary is being brought to life again in Pielke's debut novel.

Reading A NEW BIRTH OF FREEDOM was much more than merely exciting. It was a rare privilege and I look forward with bated breath to the continuation of a planned trilogy. Highly recommended.
Click here to buy A New Birth of Freedom: The Visitor, by Robert Pielke on Amazon
A New Birth of Freedom: The Visitor, by Robert Pielke on Amazon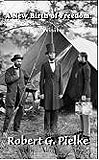 More Books You Might Like
Comment on A New Birth of Freedom: The Visitor, by Robert Pielke
Comments on A New Birth of Freedom: The Visitor, by Robert Pielke
There are no comments on this book.