A Night in the Lonesome October, by Roger Zelazny
Book Review by David A. Olson
A Night in the Lonesome October follows the adventures of a dog called Snuff, whose owner is named Jack, as it prepares for an event which occurs when a full moon coincides with All Hallows Eve (Halloween). Each chapter is one day in the dog's life, as though it were writing a journal entry, and contains artwork by Gahan Wilson, which fit the mood but looked cartoonish.

This book is a whimsical pastiche, starring such well-known characters as Doctor Frankenstein, Count Dracula, and others, though none are identified by name. Because of sketchy descriptions, I couldn't figure out who all the characters were supposed to be, which ruined some of the fun of this type of story. Although it is a pastiche, it isn't a painful one like Van Helsing. The various characters don't feel forced together and the plot makes sense.

Although this story is amusing enough to make me smile, I never laughed while reading it. In the end, this novel turns out to be a shaggy dog story, where the final joke is a pun based on the character's names that I saw coming from a long way off. Puns and literary jokes are the main source of humor in this story, so if you like those you should find this story greatly amusing.

Like many of Zelazny's books, this one is filled with characters that seem to know so many literary quotes that they could win "Jeopardy" with no problem. Sometimes this took away from my enjoyment because I had no idea what the characters were talking about. At other times the same characters are rhyming "it" with a common swear word, convincing me that characterization had been abandoned in favor of weak jokes.

If you liked Zelazny because of the Amber books, this story may feel like a big letdown. The world and characters were recycled from other authors. The climax is too short and not overly dramatic. All the clues and puzzles do come together nicely at the end, like in Amber, but the puzzles aren't as interesting nor are the answers as important.

If however, you really enjoyed This Immortal, then I think you will like this as well. The strength of that book, in my opinion, is its literary and mythological reference, as in this one; the characters and plot take a secondary role.
Click here to buy A Night in the Lonesome October, by Roger Zelazny on Amazon
A Night in the Lonesome October, by Roger Zelazny on Amazon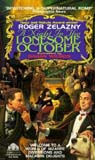 More Books You Might Like
Comment on A Night in the Lonesome October, by Roger Zelazny
Comments on A Night in the Lonesome October, by Roger Zelazny
There are no comments on this book.