All Eve's Hallows, by Dean Wesley Smith
Book Review by Susie Hawes
There is an accord of peace between the surviving races of myth and legend and the dominant race, humanity. But every once in a while, something threatens the status quo. Enter the City Knights, an ancient, worldwide order of mages and knights working to restore order. In this novel, a sorceress named Eve discovers an older god in his prison, deep in magical slumber. He is attended by the Hallows, monsterous creatures with a penchant for mischief. The god has dark energies Eve covets, and she begins to disturb his slumber.

The Hallows escape their prison to torment mankind as Eve murders unicorns and steals their blood to craft her wicked spells. Eve uses the bloody magic to steal the God's energies, becoming a formidable enemy. The City Knights seek to capture the Hallows and find out what lies behind their escape. Billie, a new recruit to this organization, might be instrumental in defeating Eve, but can she be trained in time to use her talants?

The book, told mostly throught he eyes of this young woman, is a fast-paced adventure. As Billie becomes accustomed to her new position, everything she comes to value is threatened. Her responses are believable, and her character well written. There are twists and turns, neat little tie-ins that make the characters stand out, and a good sense of strategy and internal logic. The system of magic is not only well designed, but used to the best effect, with logical consequences for ill-used spells. Thats a nice touch.

The drama in this book is strong, and the plotting tight and solid. Filled with visuals, emotions and tension, this novel keeps the reader turning pages as they become immersed in Mr. Smith's reality. I devoured this book in three quick settings, and couldn't wait to get back each time. I give All Eve's Hallows a strong 5 out of a possible 5 stars, and highly reccomend you pick it up. I liked the title, by the way. It's a neat little pun that adds flavor to a book already rich in content and meaning. Mr. Smith does his job well.
Click here to buy All Eve's Hallows, by Dean Wesley Smith on Amazon
All Eve's Hallows, by Dean Wesley Smith on Amazon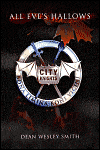 More Books You Might Like
Comment on All Eve's Hallows, by Dean Wesley Smith
Comments on All Eve's Hallows, by Dean Wesley Smith
There are no comments on this book.