Amityville House of Pancakes 2, edited by Pete S. Allen
Book Review by S. Fazekas
Pete S. Allen brings it again with Amityville House of Pancakes Omnibus Volume 2. The stories in this collection are funny, superbly written and engaging. Marlo Dianne starts off with "Gella Murphy, Public Dick"; next up is "Froggie", arguably the best story in this Omnibus, by Sally Kuntz; Uncle River follows with the thought-provoking "Firebirds and Truth"; and Carlos Hernandez wraps it up with "The Last Generation to Die".

Offbeat and often irreverent, AHOP 2 starts off fast and doesn't let up. Allen has made excellent selections that range from tongue-in-cheek murder mystery, to a unique re-telling of a fairy tale, to stories that ponder truth and immortality. It isn't quite slipstream and it's not in-your-face humor as AHOP 2 clearly strikes out in an area all its own. But in her Introduction, Lucy Snyder hits the sweet spot: this is a collection of stories that will make you smile.

Marlo Dianne's piece is set in a chaotic and unpleasant future, and pits a burned out lady gumshoe against a sociopath. Gella Murphy works with McFadden, a not-yet-completely-cynical cop on whom she has a grudging crush (one suspects). The story twists and turns harder than a high Alpine road, and Gella's resolution of the mystery came out in a way I did not at all expect. Dianne's pungent writing style complements Gella's gritty narration perfectly.

"Froggie" is a brilliant twist on the old frog prince story. Saltatoria, the frog in this one is a princess, so to speak, made so the wizard Bhoie. She is betrothed to a prince, but decides life as a princess is not as pleasant or satisfying as life a frog. Bhoie's trials and tribulations as he attempts to rectify the situation make for highly entertaining reading. The way Kuntz handles her protagonist truly brings Saltatoria to life -- who knew frogs were such pragmatic yet pensive creatures? And Kuntz's parting shot at the end of the story will make the reader simultaneously laugh and groan.

"Firebirds and Truth" by Uncle River, on the other hand, will make the reader stop and think. Set in a finely crafted, enticing world, it's a story about one man's obsession with Truth. It's also about love, having one's priorities straight, and paying attention to the things that matter most. Uncle River's methodical yet ethereal tone, unexpected turns and thoroughly engaging characters make this story a real treat.

Carlos Hernandez closes the Omnibus with "The Last Generation to Die", a weighty story about one woman's struggle to avoid immortality. Scientific advances have essentially defeated death, yet Auleria Laque deliberately and consciously chooses to die by refusing rejuvenation treatment. Business interests and politics intrude, and a struggle ensues between those favoring immortality and those who support her individual rights. Well-written and full of action, Hernandez's story will keep the reader's interest right up until the unexpected ending.

Humorous sci-fi fantasy stories are often hard to find, but Pete Allen makes it easy on those looking for them. AHOP 2 has something for everyone, and any fan of speculative fiction will enjoy it.
Click here to buy Amityville House of Pancakes 2, edited by Pete S. Allen on Amazon
Amityville House of Pancakes 2, edited by Pete S. Allen on Amazon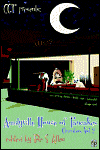 More Books You Might Like
Comment on Amityville House of Pancakes 2, edited by Pete S. Allen
Comments on Amityville House of Pancakes 2, edited by Pete S. Allen
There are no comments on this book.