Ancient Rising, by JC De La Torre
Book Review by David A. Olson
Shortly after Dan Ryan loses his wife, the Greek god Hermes appears to him and gives him a quest to discover the island of Atlantis before it is lost forever. With the god's assistance, he heads off to help a famous archaeologist discover the clues to find the island.

Some parts of this book I really liked, while other parts had me rolling my eyes. Let me cover the good parts first.

The author has an excellent sense of drama and tension. When the characters are in trouble, it really seems like there is no hope and they are doomed. One particular scene in which the hero and his girlfriend are kidnapped had me glued to the book.

Short paragraphs and plenty of dialogue make this a fast-paced book that is easy to read.

And now for the bad parts.

The main character, Dan, feels a bit corny. He's a famous author with a giant penis whose wife dies but he gets an even prettier woman. He is sad that his wife died, but that doesn't stop him from sleeping with another woman a short while later. I couldn't help but feeling like the author was living vicariously through Dan. It was almost a Mary Sue character, but not quite. The giant penis part was probably what really had me rolling my eyes.

The author also seemed to have a hard time cutting sections that are boring. Travel from place to place is described in far too much detail for me. I would have preferred skipping to the next good part instead of reading about an uneventful airplane trip.

Ancient Rising reminded me a bit of "The Da Vinci Code," in that it is a thriller which has a controversial religious theme. Although in this case the theme was a bit too unbelievable to be as controversial, while in "The Da Vinci Code" it seems somewhat plausible. I'd recommend this one to someone looking for a fantasy thriller set in the modern day, but only if that person is a somewhat forgiving reader. The book's not perfect, but it is exciting.
Click here to buy Ancient Rising, by JC De La Torre on Amazon
Ancient Rising, by JC De La Torre on Amazon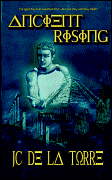 More Books You Might Like
Comment on Ancient Rising, by JC De La Torre
Comments on Ancient Rising, by JC De La Torre
There are no comments on this book.