At the Mountains of Madness, by H. P. Lovecraft
Book Review by Jeff Edwards
Geologists dig up more than they bargained for in H.P. Lovecraft's classic short novel, At the Mountains of Madness. When the Miskatonic University Expedition sails from Boston to the polar regions to secure "deep-level specimens of rock and soil," the team discovers puzzling fossils and several well-preserved hideous creatures ("Six-foot, five-ridged barrel torso...Seven-foot membranous wings...[F]ive-pointed starfish-shaped apparent head"). Further exploration reveals an ancient city built millions of years "before any known race of man could have existed" and sculptures that "told of the coming of those star-headed things to the nascent, lifeless earth out of cosmic space."

Lovecraft slowly builds a feeling of dread and foreboding within the story. After the dogs display a "frantic uneasiness near the biological specimens," and a scientist notes that the "ceaseless Antarctic sun had begun to limber up their tissues a trifle, so that the head points and tubes of two or three showed signs of unfolding," the reader knows what to expect. Lovecraft does not disappoint. The camp is later discovered in ruins, "men and dogs alike...torn and mangled in fiendish and altogether inexplicable ways."

Elsewhere, Lovecraft sets a somber mood with descriptions of weather and landscape, much as Edgar Allan Poe used to do in his tales - the author even cites Poe's "Narrative of A. Gordon Pym" several times within the story. Lovecraft's narrator mentions the paintings of Nicholas Roerich, a Russian artist who traveled through Tibet in the 1920s, painting the Himalayan Mountains; he also refers to the "Necronomicon" - a forbidden book supposedly written by Abdul Al-Hazred in 730 AD (although the "Necronomicon" was Lovecraft's invention, a hoax perpetuated by the writer's contemporaries in their own strange fiction).

Written in 1931, At the Mountains of Madness was initially rejected by Weird Tales. Lovecraft himself admitted that it "has a certain kind of cumulative horror, but is altogether too slow for the cheap artificial markets." Modern readers may lose patience with Lovecraft's writing style and his lengthy descriptions of mountains, buildings, and sculptures - but for true fans of horror and science-fiction, this short novel ought to be required reading. John Carpenter's "The Thing," The X-Files' episode "Ice," and even the 2004 movie "Alien vs. Predator" clearly show that Lovecraft's work continues to inspire writers and filmmakers today.
Click here to buy At the Mountains of Madness, by H. P. Lovecraft on Amazon
At the Mountains of Madness, by H. P. Lovecraft on Amazon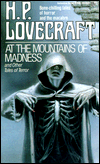 More Books You Might Like
Comment on At the Mountains of Madness, by H. P. Lovecraft
Comments on At the Mountains of Madness, by H. P. Lovecraft
Posted by Jeff Edwards on 1/9/2006
I agree: It is amazing how much Lovecraft has influenced modern fiction. And still, Lovecraft doesn't always get the credit that he deserves!
Posted by mark loughton on 12/17/2005
H.P.LOVECRAFT is the most influential horror writer of the early twentieth century.
although he has never had the kudos of EDGAR ALLAN POE or MARY SHELLEY his work is vastly superior to any of the latters work.
AT THE MOUNTAINS OF MADNESS is without a doubt a major influence on W.E.CAMPBELL whose story "WHO GOES THERE"? was the basis of the horror movie
THE THING FROM ANOTHER WORLD, which was later revamped in the far superior remake JOHN CARPENTERS THE THING. H.P.LOVECRAFT influenced everyone from STEPHEN KING to CLIVE BARKER. long may he influence newcomers to the genre R.I.P mr lovecraft, you have gone but you certainly have not been forgotten.