Bondage: Tales of Obsession, edited by Tyree Campbell
Book Review by David A. Olson
Bondage is an anthology of short stories and poems about, as one might expect, bondage. Sorry to disappoint, but none of the stories are about the S&M type of bondage. Instead, they are about cultural bondage, slavery, work being your entire life, or being bound to a magical artifact, to name just a few. The genres included are some horror (but not gore), science fiction, and fantasy. I'll only be discussing the stories, and I don't know how to critique poetry, and it isn't really my cup of tea.

I enjoyed reading these stories, which is feeling more and more unusual for me every day. This collection starts off with the impressive science fiction story "The Acculturate" but Trent Roman. I don't think I'll be able to do this story justice, but here goes. It's about a woman who lives on a planet of aliens that look a bit like centaurs. She was an unwanted baby and given to the aliens when she was very young so they could raise her. The goal being that when she grew up, she could act as an interpreter. One day a human trader is visiting the planet and gets accused of a crime, and she is the one who must talk to him and help prepare him for his execution. But she has needs all of her own which he can help her satisfy. With weeks until the trial, there is time for their relationship to grow to its cultural bounds. When I was reading this, I felt like I was reading one of those stories that is an instant classic.

Another noteworthy story is "Ties that Bind" by JE Gurley. In this tale, a poor man comes to a planet to prospect. Behind him comes his slave, a member of a race that sold themselves into bondage. The poor man runs out of money, and has to sell his slave, only to be told that there is a magical bond between them. The man sells the slave anyway . . .

Other stories include "Broken Man" by Michael Greenhut, in which two people awaken in a strange world with no memories. In "Isolation" by Michael Scott, a man is bound to his job and obeying the bossman, but not as bound as the aliens he works with who don't care if they die on the job. "The Bride" by Gary Madden is about a man who is utterly obsessed by a magical object he acquires. In "Red Rain" by Mark Anthony Brennan, red rain falls on the garden of a man obsessed with making his garden grow. "Sentimental" by Tyree Campbell is about the bond between us and the items we own.

I would highly recommend this anthology to anyone who likes thoughtful science fiction, fantasy, and horror. If they like poetry as well, I'd recommend it even more strongly.
Click here to buy Bondage: Tales of Obsession, edited by Tyree Campbell on Amazon
Bondage: Tales of Obsession, edited by Tyree Campbell on Amazon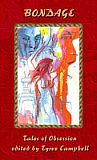 More Books You Might Like
Comment on Bondage: Tales of Obsession, edited by Tyree Campbell
Comments on Bondage: Tales of Obsession, edited by Tyree Campbell
There are no comments on this book.