Born of Shadows Book 4 of The League series, by Sherrilyn Kenyon
Book Review by SJ Higbee
Although I'd heard of this series, I hadn't read any of Kenyon's books, so when the opportunity came to whip a copy of this off the shelves, I took it. However, it meant that I was reading the book completely out of sequence. So, did that significantly affect my reading pleasure -- and did I enjoy the Kenyon experience?

For Caillen Dagan, a defiant soldier of fortune, survival isn't a right: it's a brutal daily battle. Moving through the Ichidaian universe like a wraith, his brushes with the law and death are legendary. But when an act of rare heroism reveals his hidden birthright, he's forced into a world much more dangerous and cold-blooded than the bloody streets where he was raised -- one of obscene wealth and lethal politics.

Ferocious and determined, Desideria serves as an official bodyguard for her queen. Born of questionable genetics, she will do anything to prove herself worthy of the weapons she carries and the position she's won by combat. But when she uncovers a ruthless plot to assassinate the queen and overthrow her country's government, Desideria is caught in the crossfire.

And that's the starting point for both of our protagonists. Of course, it's a no-brainer that they are going to get together. This, after all, is romantic fantasy. Kenyon wraps up the age-old boy meets girl scenario in a cool world which I found well detailed and convincing. In fact, it was Kenyon's ability to spin a cracking good tale that held me through the story, rather than the unfolding romance -- or the characters. To be honest, I found Caillen's initial tantrums about having to dress in court clothes and adopt the customs and manners of court life more than a tad tedious. And at odds with the depiction of this experienced, pragmatic smuggler who could blend into any situation -- he came over more as a whiny teenage brat than an intelligent survivor of a hundred tricky situations...

Desideria was far more convincing as the mixed-blood outsider whose affection for her foreign father had set her up as a target with her half-sisters and haughty, uncaring mother. As for their unfolding romance -- some of the repartee worked well, but I could have done with less of the smart replies between the pair of them. However, once the action really got going and Caillen's team joined the fray, the pace picked up and Kenyon's supporting characters were all effective, as were her action scenes. She writes tension-filled danger very well.

The fact that it was the fourth book in the series didn't impact on my enjoyment in any way. Kenyon has been smart enough to ensure that though there is obviously a cast of characters who are steadily developing throughout the series, the storyline isn't strongly tied to the previous book. While I got the impression that I would have known a bit more about Caillen's mates, my ignorance of their back story didn't spoil my enjoyment of the adventuring that went on in Born of Shadows. All in all -- apart from some exasperation with Caillen -- this was a fun read and a slickly written fantasy romance with plenty of excitement and adventure thrown in with the mushier stuff. No wonder Kenyon has such a strong fan base.
Click here to buy Born of Shadows - Book 4 of The League series, by Sherrilyn Kenyon on Amazon
Born of Shadows - Book 4 of The League series, by Sherrilyn Kenyon on Amazon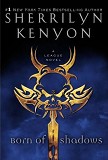 More Books You Might Like
Comment on Born of Shadows - Book 4 of The League series, by Sherrilyn Kenyon
Comments on Born of Shadows - Book 4 of The League series, by Sherrilyn Kenyon
There are no comments on this book.