Castaway on Temurlone, by David Wesley Hill
Book Review by Joshua Palmatier
Castaway on Temurlone, A Space Opera, by David Wesley Hill, is a most excellent and epic tale of a young man's transformation from a small-planet simpleton to a courageous hero. Pimsol Anderts, or Pim, begins his journey by leaving his humble home planet and family to work aboard The Miraculous Abernathy, an inter-stellar cargo ship. The Abernathy and its bureaucratic-like leaders prove to be more of an endless financial trap - treating its workers more like slaves than employees.

After a year of hunting and killing vermin, shoveling poop, and eating nothing but "Wirthy Bars"(tasteless, non-nutritive "food" bars that the workers get), Pim finds himself an abandoned personal assistant that helps him navigate through adverse situations. The personal assistant is small piece of equipment that looks like a watch, but communicates with Pim through his thoughts and gives him microsurgeries and injects him with needed nutrients, stimulants and gives him enhanced vision and hearing. With the help of his new device, called Alger, Pim gets to make friends with a strange and fierce beast named Silver, an Abbatoir and a pet of the Captain's daughter, the young and attractive Mirable.

At first, Pim is accused of "stealing" Silver, but when Silver refuses to go with Pim's supervisor, he is allowed to personally return Silver to Mirable. Upon meeting her and voicing his qualms about the quality of the food and the treatment that he and his fellow workers receive, Pim decides that Mirable is the most beautiful (and one of the only) human females he has ever seen. The next time that Pim sees Mirable, the ship is being robbed by Space Pirates who wish to not only steal from the ship's stash of priceless valuables, but also to take hostages. A firefight breaks out and Mirable is knocked unconscious.

By the direction of Alger, Pim takes Mirable to a hidden escape pod and they leave the Abernathy. The escape pod crash-lands them on the planet Temurlone, a highly divided (politically and geographically) landscape with mysterious and dangerous territories. Pim and Mirable are separated, as she is captured by a group of tribal locals. He is also eventually captured, forced to work in a "meat factory," escapes, hijacks a flying bicycle, is captured again by cannibals, escapes again, and journeys to more and more dangerous and seemingly impenetrable places all to rescue Mirable, whom he has unquestionably fallen in love with by now. Proving his courageousness time and time again,

Pim and Alger take readers along their exciting expedition that keeps you turning page after page. I cannot wait to read Wesley Hill's next work: Escape from Temurlone.
Click here to buy Castaway on Temurlone, by David Wesley Hill on Amazon
Castaway on Temurlone, by David Wesley Hill on Amazon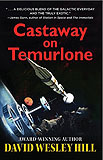 More Books You Might Like
Comment on Castaway on Temurlone, by David Wesley Hill
Comments on Castaway on Temurlone, by David Wesley Hill
There are no comments on this book.