Chasing the Roswell Alien, by Glenn Marcel
Book Review by Benjamin Boulden
There have been a myriad of films, documentaries, books and articles written about the alleged UFO crash at Roswell, New Mexico, but none of them are quite like Glenn Marcel's Chasing the Roswell Alien. Marcel is the nephew of Jesse Marcel-the Roswell Intelligence officer who blew the whistle about the Roswell crash in the 1980s-and the novel, while most certainly fiction, has the feel of an insider's view.

Vaughn, a reporter for one of those seedy little tabloids, is sent to British Columbia in search of Amelia Earhart. Not to find her crashed plane, but to actually find and interview Amelia Earhart. While Vaughn is somewhat dubious, the information has come from a source she has used before; an informant that seemingly knows everything about anything to do with conspiracy, secrets and government cover-ups. While the Earhart interview doesn't go exactly as planned, Hatch, her informant, puts Vaughn on the trail of what happened at Roswell in 1947. And the answers are far more personal, and strange, than Vaughn could ever have imagined.

Chasing the Roswell Alien is far from the expected. It is unusual in that the protagonist, Melissa Vaughn, isn't introduced until nearly the midway point of the book, and surprisingly I didn't mind. The first one hundred-plus pages are an overview of the incident at Roswell-it is much more exciting than one would think. It has the familiar events of the usual timeline, but it also has elements that are unique to this story. The Roswell tale is told through the perspectives of several characters, and in the end it is essential to the story. And when Vaughn finally does take over the narrative, things really begins to heat up.

Glenn Marcel has woven an intricate, entertaining and very readable novel with Chasing the Roswell Alien. The answers are not simple or expected. I was genuinely surprised at the climax, and very much pleased with the resulting conclusions. Marcel doesn't take his subject too seriously and he adeptly creates likable characters with dialogue heavy scenes and fast-paced action that kept me enthused and entertained until the final pages. If you enjoy a good mystery, a little spooky atmosphere, an X-Files rerun, or even late night radio, Chasing the Roswell Alien will most certainly satisfy.
Click here to buy Chasing the Roswell Alien, by Glenn Marcel on Amazon
Chasing the Roswell Alien, by Glenn Marcel on Amazon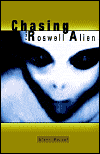 More Books You Might Like
Comment on Chasing the Roswell Alien, by Glenn Marcel
Comments on Chasing the Roswell Alien, by Glenn Marcel
There are no comments on this book.