Clowns Of Terror: An Evil Anthology, edited by Anthony Giangregorio
Book Review by Jeremy D. Carr
Coulrophobia -- a fear of clowns.

Ladies and gentlemen, children of all ages... actually, let's leave the children out for this one. Welcome to Clowns of Terror! Step right up and prepare to have your minds twisted! Honk-honk! A nine ring circus of torture, murder madness and mayhem, and all clown based of course!

In this anthology, brought to us by Anthony Giangregorio and his cohorts of clown horror, you will find psycho clowns of all kinds. There are vindictive clowns, ghost clowns, undead clowns, kidnapping clowns, voodoo doll clowns, all the most splendiferously evil kinds of clowns a human mind can muster from its dark depths of evil imaginings.

For anyone who gets a giggle out of the idea of a blood soaked clown suit, this collection is for you. Not for the faint of heart, this anthology will have you sleeping with the lights on for weeks to come. Perfect for scaring the shit out of yourself! Honk-honk!

Here is a synopsis of the offerings from the twisted minds that made these terrifying tales possible:

"Postpartum" by R.P. Steeves -- An ill-gotten clown wall adhesive, a preemie baby and an uninvolved husband all add up to one extremely overstressed new mother.

"The Great Pie Fight" by John Skerchock -- Hell is repetition and boredom... and disco, lots of disco. But when the routine is suddenly broken all Hell breaks loose and there is a glimmer of hope in a place with none, and when even Satan himself becomes too bored for the place Hell just gets even worse.

"What Happens When You Don't Believe In Halloween" by Gary Wedlund -- What happens when two clowns find love as the zombie apocalypse breaks out in the midst of a grade school clown party? Nothing good, but it sure is entertaining!

"Blood of a Clown" by Anthony Giangregorio -- This is easily the most straight-up disturbing story in the collection. The moral of the story? Never laugh at a clown. Yikes!

"Clown College" by Mike Catalano -- It is Halloween at the Melvin White College of Clowning Arts and what says Halloween more than some vengeful clown on clown violence? Well, OK, lots of things, but that's what you're going to get! Honk-honk!

"Dead in the Bed" by Daniel Loubier & Brian J. Orlowski -- When Bethany has a serious car wreck on her way home from semester break she wakes up in the ICU. If that weren't bad enough, she starts having visions of a wee-little murderous clown. Is he real or just a hallucination caused by the trauma of her accident? Either way, the dead bodies are real enough, and it is a question that will take Bethany to the very brink.

"To Kill a Clown" by Michael D. Griffiths -- Maybe it is their sense of the ridiculous that gives clowns their horror factor. Even when, say, kidnapping and murdering children, they have the joie-de-vivre to maintain a jestful temperament and physicality. But when one of these psycho clowns grabs your two year old son at the faire it is hard to appreciate the irony of terror from jest. Maybe you just want to kill the fucker!

"The Legacy of Jo-Jo the Clown" by Tony Garcia -- Jo-Jo was an artist, pure and true. Unfortunately Jo-Jo was also a psychotic clown. When an angry mob captures Jo-Jo while finishing his greatest masterpiece they unintentionally begin a legacy that will last for all time.

"Tibo Is Gonna Getcha" by Anthony Giangregorio -- Hell hath no fury like a woman scorned, particularly by her own sister, except maybe a little voodoo possessed clown doll named Tibo. Yeah, definitely the voodoo clown doll.

Click here to buy Clowns Of Terror: An Evil Anthology, edited by Anthony Giangregorio on Amazon
Clowns Of Terror: An Evil Anthology, edited by Anthony Giangregorio on Amazon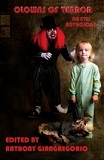 More Books You Might Like
Comment on Clowns Of Terror: An Evil Anthology, edited by Anthony Giangregorio
Comments on Clowns Of Terror: An Evil Anthology, edited by Anthony Giangregorio
There are no comments on this book.