Conan and the Songs of the Dead, by Joe R. Lansdale, Timothy Truman
Book Review by Jeff Edwards
In the unforgiving Stygian desert, a desperate man chases two wild animals. The hog pulls ahead and escapes; the dog is not so lucky. The man - a barbarian from Cimmeria - uses his teeth to rip out the canine's throat and then disembowels the corpse with a blade. Thus begins Conan and the Songs of the Dead, a collection gathering together the five-issue Dark Horse comic book series.

Although the graphic novel boasts carnage galore - hardly a page goes by without a beheading or at least a severed limb - author Joe R. Lansdale manages to inject his pulp-style tale with a strong dose of comedy, too. Lansdale fans will probably be thrilled; readers expecting a more brooding barbarian won't be as pleased.

The biggest joker in the story is Conan's sidekick, Alvazar, and his one-liners quickly grow stale. Worse, Alvazar assumes the persona of a restless child on a long road trip: "I'm hot...It's turning cold...I'm thirsty. I'm hungry." Lansdale reserves the best material for Conan: After a voluptuous djinn gives herself to the barbarian, she announces, "I am satisfied. For another one hundred years." Conan replies, "One hundred years? I'm better than I thought."

Speaking of that genie, her appearance firmly pushes the graphic novel into the "guilty pleasures" category. First topless, then nude, the Djinn of the Stones floats through the air, tempting Conan and titillating readers.

The storyline is secondary to all the fun: Conan stumbles - almost literally - onto an evil wizard's plot to obtain a legendary book. Fans of Robert E. Howard and H.P. Lovecraft won't be surprised to learn that the aforementioned ancient tome holds the Old Ones at bay in their world - or allows them passage into ours. The wizard even utters a familiar name - Cthulhu - during one of his incantations.

While racing against time to foil the wizard's scheme - or, more accurately, while stealing anything he can lay his hands on - Conan encounters mummies, cauldron creatures conjured from "blood and water, shadow and hair," a band of ferocious Picts, sub-human Worms of the Earth, and, in the grand finale, an enormous, tentacled, otherworldly elder god.

Timothy Truman does a fantastic job depicting Conan battling all manner of foes in a range of environments: desert, forest, an underground cavern, and a magical stone structure that erupts from the shifting sands. Dave Stewart's vibrant coloring complements and enhances Truman's art without overwhelming it.

Joe R. Lansdale and Timothy Truman have created a rollicking new adventure in Conan and the Songs of the Dead. Ultimately, though, this barbarian seems like an impostor: Lansdale's tongue-in-cheek take on the sword-wielding Cimmerian bears a greater resemblance to the oft-derided movie "Conan the Destroyer" than to Howard's original stories. Readers searching for a dark, "authentic" Conan graphic novel won't find it here.
Click here to buy Conan and the Songs of the Dead, by Joe R. Lansdale, Timothy Truman on Amazon
Conan and the Songs of the Dead, by Joe R. Lansdale, Timothy Truman on Amazon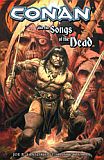 More Books You Might Like
Comment on Conan and the Songs of the Dead, by Joe R. Lansdale, Timothy Truman
Comments on Conan and the Songs of the Dead, by Joe R. Lansdale, Timothy Truman
Posted by Jeff Edwards on 10/31/2007
Thanks for reading my review, David. I am sorry to have turned you away from the book, but unless you like humorous sidekicks in your Conan stories, you would have been disappointed with this one.