DS9: Worlds of, Cardassia and Andor, by Una McCormack, Heather Jarman
Book Review by Jason Garza
Cardassia Prime was one of those planets briefly glimpsed over Deep Space Nine's seven seasons, and what the viewer saw was often military-related, though in a police state such as Cardassia that wasn't really a surprise. What is a surprise is reading the follow-up to the haunting images of a wasteland the final episode left in our minds. The Lotus Flower, Una McCormack's tour of Cardassia's fledgling democracy and struggle for independent survival, is at once a tense political thriller and a tender study of familial relationships.

Juxtaposing the corridors of power frequented by Alon Ghemor, Garak, and the newest player, an advisor named Jartek. Truly, Ms. McCormack knows how to write Garak; indeed, the only person ever to hit the nail so aptly on the head when writing a Garak story is Andrew J. Robinson himself; she has firmly captured the multilayered facets which served to make Garak one of the most admirable and loathsome characters to ever appear on television. Garak is the consummate tinker, tailor, soldier, and spy; but more, he is a patriot in love with his homeland, the exile returned home to ashes.

As such, it stands to reason that the ultimate goal of Garak—as well as Ghemor and Jartek—is to see Cardassia rise anew, and all three men realize their best hope is with the Federation—but not all agree on how best to achieve the peace that has proven elusive. Matters are complicated, as they must be, by a display of forceful ultimatum; a young girl holds a gathering hostage, bomb strapped to her chest, demanding all non-Cardassians leave the planet. This occurs at an important conference in which Cardassia's agricultural future will be decided.

And it is here where we see the delicate balance of love, family, faith, and betrayal. Keiko O'Brien, head of the agricultural project, reflects upon her past choices to discern why a child would react in such a matter; indeed, the young woman's own mother is involved with the Andak research. And it is in those passages where McCormack's talent shines; she does not need explosions, starships, nor galaxywide catastrophe to tell a tale. Relying upon base emotion, "human" nature, and the bond between parent and child, she spins a very literary tale that traverses the muddled compulsion that is choosing to act—and what those decisions ultimately cost. A timely tale of deceit, treachery, and faith, The Lotus Flower is a wonderful, balanced, strong entry into Deep Space Nine's post-finale literature.

The Lotus Flower: 5 out of 5

Love is in the air on Andor. As are strife, political unrest, kidnapping, and the Spring Water Festival, a seemingly quaint, down-home ritual that invites intrigue and guile. Paradigm, Heather Jarman's trek through the complex morass of Andorian sexuality, identity, and potential extinction, is a scientific, political, and romantic tale that solves much—but answers little. Paradigm is, like the Andorians themselves, enigmatic and secretive, sometimes too much so for its own good. While the notion of extinction is too grave for most sentient beings to grasp, Andor has faced the crisis for generations. As a result, compatibility tests and reproductive obligations are the norm, with children becoming sexually aware and active in a few short years. These "taboos" are viewed through the eyes of Ensign Prynn Tenmei, the lovelorn young woman who fears losing the one man to whom she feels connected.

Thirishar ch'Thane, science officer and prodigal son, returns to his homeworld after receiving summons from his zhavey, a Federation Councillor and guilt-inducing mother figure. Also, the funeral rites of his deceased zh'yi, Thriss, are occurring, though his presence was not requested. What follows is a complex story of relationships and political machinations with the specter of identity hanging gloomily in the distance. In short order, chThane' zhavey is kidnapped, genetic manipulation is alleged, and civil war seems all but imminent.

There is a lot of ground to cover, and Jarman manages to address many of the issues at play. Indeed, the overall theme of identity—cultural, personal, genetic—is a heavy one, but she manages to pull it off exquisitely. Andor must collectively ask itself what price salvation; would they willingly dissolve from four sexes into two just to propagate their race? It is, of course, one of those questions not really answered, which isn't necessarily a bad thing.

Fans of the television series may ask themselves, Why Andor? Fans of the post-finale literature will sigh in relief, and undoubtedly enjoy that the four main players in the novel—Tenmei, ch'Thane, zh'Thane, and Matthias—are all literary creations. While this could certainly hurt the novel, it actually makes some interesting character couplings that might not have worked if one of the "main" characters were present. When all is said and done, Jarman delivers a fine in Paradigm, a story that satisfies and delivers as promised, but leaves the reader with a firm knowledge that, no matter what the future holds, it is still the individual who holds the key.

Paradigm: 4 out of 5

Overall, Volume One of Worlds of Star Trek: Deep Space Nine focuses on the concepts of love, devotion, and social change—and the resulting fear that rises in response to them. While both tales are strong in their own right, thematically they blend well, both authors providing unique views into their respective "worlds," each talented in their own way, creating a novel that was once a rarity in the Star Trek pantheon—one that is quite literary; indeed, as that is the direction Trek novels have taken recently, we're all the better for it.
Click here to buy DS9: Worlds of, Cardassia and Andor, by Una McCormack, Heather Jarman on Amazon
DS9: Worlds of, Cardassia and Andor, by Una McCormack, Heather Jarman on Amazon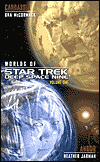 More Books You Might Like
Comment on DS9: Worlds of, Cardassia and Andor, by Una McCormack, Heather Jarman
Comments on DS9: Worlds of, Cardassia and Andor, by Una McCormack, Heather Jarman
There are no comments on this book.