DS9: Worlds of, The Dominion and Ferenginar, Vol. , by Keith R.A. DeCandido, David R. George
Book Review by Jason Garza
I read Satisfaction is Not Guaranteed in one sitting on a rainy day, something oddly apropos considering it is the Ferenginar portion of Worlds of Deep Space Nine. I will freely admit that the Ferengi have never been a favorite species of mine, but over the course of seven seasons I found myself growing fond of the avaricious species. And when I learned Keith R.A. DeCandido was writing the story for Worlds..., I was rather enthused. It is a truly wonderful story that reunites the various Ferengi that once graced the small screen; Leck, Brunt, Zek, and even Gaila make the story an enjoyable ride for fans of the series.

Rom is accused of violating a contract, putting Zek and Ishka's reforms at risk; according to Brunt, Rom's marriage to Prinadora was never officially "over," and therefore Rom and Leeta's marriage is in violation of the Ferengi code of ethics. Quark finds himself in the thick of things, forced to decide what is more important: the old ways, or the progressive reforms put forth by the previous Nagus. And for once, Quark does not put himself first. And somehow, he convinces Ro to visit Ferenginar with him, and it is she who will prove the pivotal character.

DeCandido further expands the characters we have come to know and love, and as usual creates a plausible, effective story that never loses sight of its characters; the plot is secondary to characterization. Sharp and witty dialogue coupled with the seriousness of the situation makes for a great juxtaposition—much like the Ferengi themselves, once a laughingstock and now a (somewhat) respected civilization.

While our characters do indeed grow, and while the plot is resolved, and while we come to further despise Brunt and his allies, there is one little detail that left me somewhat dissatisfied; the climax of Ro and Quark's relationship. However, I can see exactly why this occurred, and know full well that there is still plenty of story potential between these two characters. It's a small detail, but one that will have lasting repercussions in the saga.

Satisfaction is Not Guaranteed is a truly great read, the perfect way to spend a rain-soaked day.

Rating: 5 out of 5

I approached Olympus Descending with a small amount of trepidation. I was concerned that the status quo would be minimally shaken, and that this would be a story focused on the far reaches of the Gamma Quadrant. That this would be Odo's continued journey to persuade the Founders that they have nothing to fear from Solids.

And then Taran'atar dreamt, and my expectations were shattered. Considering David R. George III was writing this, I shouldn't have been that surprised; given his previous works, it should be expected that Olympus Descending was a great, carefully woven tale of suspense and intrigue.

While Odo does embark on a journey of discovery—with Laas, and an ancient Founder dubbed "Indurane" (Bajoran for "ancient")—to discover the truth behind The Hundred and their true purpose in life. The myth of the Progenitor plays deeply into said investigation, and Odo draws heavily upon his past as an agent of the law and his proximity to solids to reconcile what he will learn.

Taran'atar, meanwhile, embarks on his own journey of self-discovery. He, along with Captain Kira, travel to the penal colony Ananke Alpha, where the Founder Leader is interred. Taran'atar will learn a shocking truth—one that will shatter his faith, an odd mirror to the same set of circumstances Kira faced in the Avatar Duology—and his actions will leave a lasting stain on "Deep Space Nine".

We also learn a bit more about the Weyoun clone and its history, seeing things from his perspective as well. Interestingly, there is another Vorta—Vannis—on a mission of contact for the Dominion; the agents of the Dominion are still waving the flag for the greater good of the Dominion. Again, an intriguing juxtaposition given that the discovery made by Odo, Laas, and Indurane will change the face of the Dominion—forever (yes, that is meant to be ominous).

I was greatly satisfied with Olympus Descending, on the edge of my seat throughout. It is clear that things will never be the same in the worlds of Deep Space Nine after the events in Olympus Descending; indeed, the end will leave one scrambling frantically for the follow-up, "Warpath."

Rating: 5 out of 5

Overall, Volume Three is by far the strongest collection in the Worlds of Deep Space Nine series. With to heavy hitting stories and life-changing revelations, Volume Three is a worthy continuation of "Deep Space Nine". While both endings are downbeat, they leave hope for the future—and it will be worth the wait while we see where the story goes.
Click here to buy DS9: Worlds of, The Dominion and Ferenginar, Vol. , by Keith R.A. DeCandido, David R. George on Amazon
DS9: Worlds of, The Dominion and Ferenginar, Vol. , by Keith R.A. DeCandido, David R. George on Amazon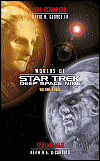 More Books You Might Like
Comment on DS9: Worlds of, The Dominion and Ferenginar, Vol. , by Keith R.A. DeCandido, David R. George
Comments on DS9: Worlds of, The Dominion and Ferenginar, Vol. , by Keith R.A. DeCandido, David R. George
There are no comments on this book.