DS9: Worlds of, Trill and Bajor, Vol. 2, by Mangels and Martin, J. Noah Kym
Book Review by Jason Garza
Throughout its various incarnations, Star Trek has always been, at its core, a socially and politically conscious entity, dealing with globally important issues. While it's debatable as to whether or not those particular shows/episodes were successful, it is safe to say that the post-finale "Deep Space Nine" fiction carries on in this tradition. Case in point: Volume Two of Worlds of Star Trek: Deep Space Nine. We are given two very different yet compelling stories written by Andy Mangels and Michael A. Martin (Unjoined, the Trill story) and J. Noah Kym (Fragments and Omens, the Bajor story).

Unjoined deals with the repercussions stemming from the aptly named parasite crisis, one of the more intriguing plotlines to stem out of Deep Space Nine. Civil unrest has grown to the point of rioting on Trill, with the caves of Mak'ala—home to the symbionts' spawning pool—threatened by unjoined "rebels." Mangels and Martin are successful in blurring the lines between joined and Unjoined Trill, and it is clear that, however good intentions might be, the outcome is never guaranteed. There is no galactic threat in Unjoined; rather, it is Trill secrecy and memory. It is, ultimately, a threat to the very nature of Trill civilization.

The story is furthered by character interplay and relationships, and while no one is quite the same after the events in Unjoined, the inevitable sequels will be fraught with eve more tension. Here, with the focus on Ezri and Dax, we are treated to a story that is chiefly Dax's; she and Bashir come face-to-face with their romance—a romance borne in a time of crisis and war, an unstable foundation for love if there ever was—while Dax simultaneously attempts to reconcile past dealings with Gard, Cyl, and a piece of Trill's past hidden deep within the pools of Mak'ala. While I fully admit to not being a fan of the Dax-Bashir relationship, Unjoined is an excellent story marked by the excellence we've come to expect from Mangels and Martin. Sharp dialogue, efficient plotting, and a level of suspense that is definitely "page-turning." There are a few slow spots—the scenes with Ezri communing with the symbionts are a bit long-winded, though given it is a history lesson this can be forgiven—and the ending will leave one anticipating what is next.

Unjoined: 4 out of 5

Bajor is in the throes of change, a necessary evil that comes along with Federation membership. The planet has recovered from the assassination of First Minister Shakaar, and Asarem Wadeen has effectively filled the power vacuum. Still, all is not well on Bajor; Sidau village is decimated violently, the perpetrators as mysterious as the reasons for its destruction. Jake Sisko leaves his home and embarks on a journey where he will meet his own destiny, entwined as it is with Bajor. Vaughn muses on his own mortality and assists Opaka in finding her own path, all while Captain Kira and Lieutenant Ro attempt to solver the mystery of Sidau.

And this is all within less than two hundred pages. However, J. Noah Kym pulls the threads expertly, showing just enough to keep the reader guessing throughout. Naturally, there is no conclusion to a few of the threads, which is of course the point; it is, after all, an ongoing series. But never does it feel that the character shifts or multiple viewpoints are distracting; if anything, each unique voice adds a level of tension and humanity to the story. It is refreshing to see this novel connect with others, such as "Articles of the Federation" and "Titan" in little ways, though they have proven in the aforementioned fiction to be anything but. Learning Asarem's connection with Krim is fascinating, as is the closing scene at the Sisko household, where the final line will leave the reader eagerly awaiting the conclusion.

Fragments and Omens is a strong story propelled by spot-on characterization and a gripping plot, and it is easy to see the story as a "lost" episode of the "Deep Space Nine" saga. It feels as if this is the most important of all the stories in the Worlds of Deep Space Nine Saga, as it is Bajor where the saga of "Deep Space Nine" began—and perhaps will end.

Rating: 4 out of 5

Overall, Volume Two of Worlds of Deep Space Nine is concerned with identity and one's place in the grand scheme of things. The trio of authors proves themselves more than capable of handling obscure and major characters in a myriad of situations. Unjoined and Fragments and Omens answer many questions and leave more open to interpretation; it will be intriguing to see where this is going. Definitely a must-read for fans of the series.
Click here to buy DS9: Worlds of, Trill and Bajor, Vol. 2, by Mangels and Martin, J. Noah Kym on Amazon
DS9: Worlds of, Trill and Bajor, Vol. 2, by Mangels and Martin, J. Noah Kym on Amazon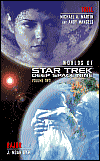 More Books You Might Like
Comment on DS9: Worlds of, Trill and Bajor, Vol. 2, by Mangels and Martin, J. Noah Kym
Comments on DS9: Worlds of, Trill and Bajor, Vol. 2, by Mangels and Martin, J. Noah Kym
There are no comments on this book.