Dead Man's Hand, by Tim Lebbon
Book Review by Jeff Edwards
Two strangers ride into Deadwood, South Dakota, bringing fear, violence and death with them. Before leaving, they will change the lives of two men forever - and end the life of another.

Dead Man's Hand is the tale of an Old West town, a supernatural killer for hire, and the adversary determined to stop him. Here, in Book 1 of the Assassin Series, Tim Lebbon unveils just enough detail about his main characters - Temple and Gabriel - to spark interest in the next installment. Temple is a shape-shifter, traveling though time and serving up death: "He needs to kill. That's his twisted reason for being here." Gabriel is never more than one step behind, relentlessly chasing after the demon: "[F]or all the time I can remember, it's been down to me to kill him." His flesh scarred from past encounters with Temple, Gabriel's wounds warn him when he is close to his nemesis.

Deadwood mainly serves as a backdrop for the action - dusty streets where blood will spill - and Lebbon sets the stage effortlessly: The town is instantly familiar, yet never crosses the line into cliche. Fans of old Westerns will easily picture the Deadwood Hotel and Nuttal & Mann's No. 10 saloon, and then Lebbon adds vivid color to the sepia-toned images with his metaphors ("Dawn was hemorrhaging across the horizon," "My body was a map of pain, each district hurting in a slightly different way").

At the conclusion of Dead Man's Hand, Gabriel knows that he hasn't seen the last of Temple: "He hasn't gone. He never will be. He's just moved on somewhere different." Tim Lebbon fans, old and new, will surely tag along for the ride as the adventure continues in Book 2, "Pieces of Hate."
Click here to buy Dead Man's Hand, by Tim Lebbon on Amazon
Dead Man's Hand, by Tim Lebbon on Amazon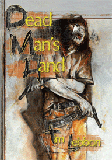 More Books You Might Like
Comment on Dead Man's Hand, by Tim Lebbon
Comments on Dead Man's Hand, by Tim Lebbon
There are no comments on this book.