Distant Shores, edited by Marco Palmieri
Book Review by Heather Hunt
Distant Shores is a Star Trek Voyager anthology that celebrates the 10th anniversary of the fourth series in the Star Trek universe. Full disclosure requires me to say that this version vies with the Original Series as my favorite.

Readers might have expected this collection to contain seven stories, one for each year of the show, or maybe 10, to dovetail with the 10th anniversary, but instead we get a bonus 12 stories. You might even call it a baker's dozen since the first story is split into two parts that bookend the collection.

Editor Marco Palmieri makes sure all eras of the series are represented from Season One's tensions between Starfleet and Maquis through Kes's departure to Seven of Nine's addition to the crew. Palmieri also chooses writers with impressive Star Trek resumes, including the three writers of the "String Theory" series: Jeffrey Lang, Kirsten Beyer, and Heather Jarman.

Highlights of the collection include "The Secret Heart of Zolaluz" by Robert T. Jeschonek, which is a masterpiece of the short story genre from its Edgar Allen Poe title to its O. Henry twist ending. "Brief Candle" by Christopher L. Bennett wins for best tear-jerker, with its themes of noble sacrifice and life as a brief candle so carpe diem.

"Eighteen Minutes" by Terri Osborne is a tour de force for Doctor fans, who find his (or should I say "its"?) forays into reaching beyond his original programming one of the highlights of the show. The story is composed of the Doctor's journal entries while stranded planetside in a time dilation in which 18 minutes on Voyager equals three years on the planet. It could've just as easily been called "A Thousand Days," because that's what it seems like to the Doctor.

The crossover award goes to "Bottomless" by Ilsa J. Bick, which follows the new "Battlestar Galactica's" favorite method of telling a story through backward countdowns, i.e starting with some horrendous event and using subtitles, such as "12 hours previously," "6 hours previously," etc., to fill in the backstory.

There is much here for Voyager fans to love. Star Trek completists will also want this collection.

For fans who collect favorite Star Trek authors, here are the other writers who appear in this anthology: Christopher L. Bennett, Keith R. A. DeCandido, Robert Greenberger, Kim Sheard, James Swallow, and Geoffrey Thorne.
Click here to buy Distant Shores, edited by Marco Palmieri on Amazon
Distant Shores, edited by Marco Palmieri on Amazon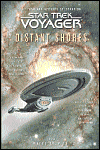 More Books You Might Like
Comment on Distant Shores, edited by Marco Palmieri
Comments on Distant Shores, edited by Marco Palmieri
There are no comments on this book.