Do Androids Dream of Electric Sheep?, by Philip K. Dick
Book Review by Michelle Ristuccia
When I picked up Do Androids Dream of Electric Sheep, all I knew about it was that it was the "inspiration" for Blade Runner, a move that I could never bring myself to like. Of course, "inspiration" means just that, kind of like fan-fiction but with even less adherence to the original world built by the author. Do Androids Dream of Electric Sheep is for more than just Bladerunner fans: it is for any science fiction junkie, whether your preference is the hard science of Frederik Pohl, the action of any Poul Anderson book, or the ethical questioning and character development of Orson Scott Card.

For those who like hard science fiction, Phillip K. Dick brings you a post-apocalyptic setting and sophisticated robots with organic parts. Both the setting and the robots are integral to the book, rather than just flashy add-ons that only make it feel like science fiction. For action lovers, there's plenty of running around and shooting at people and robots alike. For those with a mind for the philosophical, every letter on the page adds detail to one of the many moral questions posed by the book.

The philosophical underpinning gives the book a depth that's astounding for such a short novel. The imaginative setting, continuous action, and character development make this a success. The book questions what makes us human and the potential of Artificial Intelligence to become human. Phillip K. Dick's robots aren't your metal drones waiting for their orders and they aren't your sympathetic almost-human types. They range somewhere between Data and the Terminator, and it is their alieness that the author uses to question our own humanity. This, the main question, is highlighted in the title itself: Do Androids Dream of Electric Sheep?

The post-apocalyptic theme also poses its own question. How will humans govern their future? What are some of the unique problems posed by a depopulated Earth full of pollution and decay? Can the human race survive even when given the short end of the stick? This book is unique in how it presents these questions in that you won't find a human race that's been thrown back to the stone age. Rather, technology is both an extension of human depravity and human tenacity. There are hover cars and regular transports to off-world colonies, though the characters live in mostly abandoned buildings full of deteriorating stuff from long ago.

The author attempts to answer, in part, some of the questions he poses, while leaving others completely up to the reader. This novel makes one think without being too preachy and certainly without being boring. The book offers an interesting mixture of pessimism and hope that is sure to satisfy most pessimists without alienating most optimists. The future is what we make it, and while we may not have much individual control over the world around us, we still have the ability to inject some good in our lives, to come out a somewhat better person in the end. Plus robots and hover cars. How can you go wrong?
Click here to buy Do Androids Dream of Electric Sheep?, by Philip K. Dick on Amazon
Do Androids Dream of Electric Sheep?, by Philip K. Dick on Amazon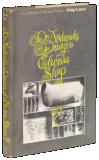 More Books You Might Like
Comment on Do Androids Dream of Electric Sheep?, by Philip K. Dick
Comments on Do Androids Dream of Electric Sheep?, by Philip K. Dick
Posted by Dave on 1/16/2009
The movie version, Blade Runner, is my all-time favorite movie. I read the book once, long ago, and was (unjustly) disappointed. I remeber it being convoluted and disjointed; somewhat hard to follow. But that's was Dick's style. I should read it again.