Dreamwish Beasts and Snarks, by Michael Resnick
Book Review by Paul Weiss
I've always admired the cleverness and the creative ability of authors of all stripes. But, as a long time fan of sci-fi, one of the more esoteric and most ignored genres in the universe of literature, I've always had the personal conceit that sci-fi authors had to be blessed with an extra dose of imagination, prescience, daring and, dare I say it, an exceptionally large storehouse of hardcore physical knowledge of the world around us. In a universe of brilliant authors that include such classic standouts as Isaac Asimov, Clifford D Simak and HG Wells, or more modern wordsmiths - Ben Bova, Robert Sawyer and Jack McDevitt, to name only a few - Michael Resnick is rapidly establishing a reputation as a standout in the field.

"Dreamwish Beasts and Snarks" is an anthology of several short stories and two novellas based on the theme of hunting and safaris with definite fantastical and futuristic twists.

Knowing that Michael Resnick was a fan of Africa and things African, such as safaris, one of Resnick's friends once challenged him to write "the ultimate sci-fi hunting story". Using Lewis Carroll's poem, "The Hunting of the Snark" as a leaping off point, Resnick knew he had a story to tell. The modern "Hunting the Snark", a Hugo and Nebula award nominee, while clearly demonstrating Resnick's admiration for Carroll's poetry is anything but derivative and the ending is pure Resnick. In another homage to classic literature, Resnick's novella, "The Soul Eater", is a futuristic space-faring version of Herman Melville's "Moby Dick" that one reviewer even categorized as "one of the strangest love stories you'll ever read".

"Bwana" is a satirical fable that criticizes western white man's ethnocentric assumption that modern, civilized man always has something better to offer a nomadic, hunter-gather culture. "Safari 2103 AD", while perhaps a little beyond the bounds of credibility in terms of a realistic future, certainly offers a very clear warning about the natural world a distant future may face if nothing is done to halt pollution, global warming, deterioration of natural habitats and the like. It is, in short, a cautionary tale about how our ancestors may perceive "big game safaris".

While obviously thematic in nature, "Dreamwish Beasts and Snarks" is also eclectic, in the sense that it contains a variety of styles - humor, fantasy, space opera, satire, social comment and even a dollop of horror.

I've read very little of Michael Resnick's body of work but I'm certainly looking forward to exploring more. All fans of sci-fi will love "Dreamwish Beasts and Snarks". I'd even go so far as to say that readers looking for a good place to begin an exploration of the sci-fi genre would do well to look no further than this wonderful of stories.

Highly recommended.
Click here to buy Dreamwish Beasts and Snarks, by Michael Resnick on Amazon
Dreamwish Beasts and Snarks, by Michael Resnick on Amazon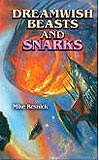 More Books You Might Like
Comment on Dreamwish Beasts and Snarks, by Michael Resnick
Comments on Dreamwish Beasts and Snarks, by Michael Resnick
There are no comments on this book.