Egg of the Damned, by April French
Book Review by David A. Olson
Egg of the Damned (EOTD) is a humorous dark fantasy, and the first of Sam's Dot Publishing's Cameos, each of which will feature one novella by one author. EOTD is a murder mystery that isn't really about the murder. It's about the characters, a few of which are already dead. But don't expect to be frightened by the zombies and ghost; the undead in this story are a relatively friendly bunch.

Flynn, a thief, is the main character of this story. He quickly joins with Joseph Tarn--an assassin, which is a perfectly legal profession in the land of Alish--to save the life of a ghost who is condemned to death. For that, they'll need a philosophers stone, an object that no one has ever made.

The best part about this story is its humor. Some of the lines I particularly enjoyed are:

"As punishment for his wicked life, he is now being forced to spend eternity doing guided tours. Talk about Hell!"
"I was living in rented rooms in a boardinghouse on Marley Street, with no friend but myself and no foe save the landlady..."
"Monks are celibate Luke. They're not dead."

I don't give EOTD a perfect rating for a several reasons. First, the murder mystery isn't very important to the plot at all. The answer is revealed in an aside by one of the characters. Second, there is a rather large hanging thread about a girl being dead at the end of the story, which is never resolved. I'm not even sure why it is brought up, unless the author is planning on a sequel. Finally, I don't think the main character has much at stake in the story.

If you enjoy humorous dark fantasy, you'll enjoy Egg of the Damned. It's laugh out loud funny. It is available from Sam's Dot Publishing.
Click here to buy Egg of the Damned, by April French on Amazon
Egg of the Damned, by April French on Amazon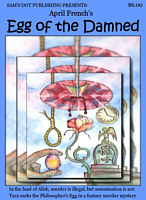 More Books You Might Like
Comment on Egg of the Damned, by April French
Comments on Egg of the Damned, by April French
There are no comments on this book.