Ethan Ranger and the Eater of Souls, by Daniel Sanders
Book Review by Jeff Edwards
In a war-torn world, Ethan Ranger travels from town to town on foot, seeking revenge. He won't rest until he finds his wife's killer: a villain from the Blasted Lands known as the Eater of Souls. On his quest for vengeance, Ethan will gain allies in New Hope and Bordertown before reaching Riverford, where an army has gathered to make one last, desperate stand against the Tattooed Man and his band of evil Corsairs.

Ethan Ranger and the Eater of Souls is a nostalgic throwback to the pulp adventures of yesteryear: Its cover shouts "Savage! Thrilling! Fantastic!" and its pages are filled with gunfights, swordplay, mutants lurking in the wastelands, and a beautiful Oracle swimming naked behind a waterfall. Despite his best efforts, though, Daniel Sanders can't recreate the magic of those pulps of yore.

Observe how Robert E. Howard masterfully sets the scene in one of his stories back in 1933: "Along the crooked, unpaved streets...torchlight licked luridly from...wide-thrown doors, and out of these doors, stale smells of wine and rank sweaty bodies...rushed like a blow in the face." Now, read Sanders' derivative version of essentially the same passage: "Torches were lit along the central street and their fire illuminated the entire dirt road...The traveler stepped into the saloon through the double batwing doors. The bar was alive with gambling, drinking, and prostitution." There's simply no comparison; Sanders' prose lacks the raw energy that distinguished Howard's writing. This homage is nothing more than a pale imitation.

If Sanders had followed the traditional, mainstream publishing route, he surely would have been told that his manuscript needed heavy revision. Instead, the young author chose to release the novella himself, thereby skipping a crucial step in the publishing process: editing. Although a company called Blitzprint supposedly provided editing services, errors abound, like characters charging forward "with lightening speed," and darkness beginning its "decent over the land."

Blitzprint must not have paid much attention to Sanders' pronoun usage, either. Clumsy writing results in blunders like an unintended resurrection in the midst of a gunfight: "One of the men was hit in the neck and he went down, gushing blood. He moved back behind the pillar and began to reload." In the same scene, a bullet transforms a character's hand into a "mangled mess," but only three days later the "wound had healed up. He was lucky that the bullet to his hand went straight through." No misleading pronouns there - just a medical miracle.

Daniel Sanders showed drive and determination by writing a novella and self-publishing it, and he should be commended for his can-do attitude - but he really needs to hone his skills as both a writer and a publisher before unveiling another Ethan Ranger adventure.
Click here to buy Ethan Ranger and the Eater of Souls, by Daniel Sanders on Amazon
Ethan Ranger and the Eater of Souls, by Daniel Sanders on Amazon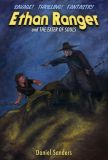 More Books You Might Like
Comment on Ethan Ranger and the Eater of Souls, by Daniel Sanders
Comments on Ethan Ranger and the Eater of Souls, by Daniel Sanders
There are no comments on this book.