Every Shallow Cut, by Tom Piccirilli
Book Review by Michael D. Griffiths
The novel Every Shallow Cut, by Tom Piccirilli is a quick read. Why, because it is a fast paced novel that seemed to dare you to put it down. It is the type of book you might try to read in a single day if you had the chance. I have read a few books put out by ChiZine now and so far I have never been disappointed with their authors.

The story follows a struggling man, an author. But he could be any man who has confronted failure in this tired America we find ourselves in. When success slaps us and our only friend is our dog, is there no where to go but up, or will we find a way to sink deeper. This book might be an attempt at Urban Fantasy, but in the end it is much more urban than fantasy, but the strong dose of action might make up for this for most readers.

Thoughts battle with action of control of the author's destiny. He's lost his house, he lost his wife, and perhaps he has lost everything save a smoldering rage. For a lack of anything better to do, the author decides to make a road trip across America to see his brother who has no respect for him. A journey that was doomed before it began, one would think.

Some things are handled well and others turn out to be worse than he expected. Is there a chance for redemption or will he be the one to drive the final nail into his own coffin?

This novel was fast paced and entertaining. The cynical wit might have been a bit thick at times. It left you wondering if this author could be your best friend or that guy you could not stand to be in the same room as. The novel was also a bit on the short side and it felt like it could have continued on a bit more.

There is creativity and insight in this story. It became something that I wanted to keep reading. I would certainly pick up another book by Piccirilli. I also look forward to getting my hands on some new ChiZine books.
Click here to buy Every Shallow Cut, by Tom Piccirilli on Amazon
Every Shallow Cut, by Tom Piccirilli on Amazon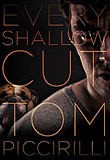 More Books You Might Like
Comment on Every Shallow Cut, by Tom Piccirilli
Comments on Every Shallow Cut, by Tom Piccirilli
There are no comments on this book.