Flatland: A Romance of Many Dimensions, by Edwin A. Abbott
Book Review by James Michael White
Flatland is not so much a novel, and not so much a short story, as it is a thought experiment exploring in anthropological detail (sometimes to its own detriment) the nature of a two-dimensional world and the transformation of one of its moderate citizens, A. Square, via a series of revelations about other dimensions, including the wondrous third. At times bitingly satirical, and at others tedious, the story works best when A. Square undergoes his revelations and suffers penalties for trying to enlighten his two-dimensional brethren. A satisfying character study this is not, but rather a clever angle on dimension that should satisfy those willing to explore a science fiction classic from way back (1884!) that relies more upon speculative ideas and less upon the gee-whiz factor of more popular fare.

Okay, so what does that mean? Approximately the first half of the little book is taken up with A. Square explaining to a three-dimensional readership what it is like to live in Flatland, and though the notes concerning social organization and cultural conduct are at times amusing, especially as related to the social hierarchy built upon the regularity of the sides and angles of the various solids that comprise the humanity of Flatland (from, for instance, the lowly isosceles triangles to the moderate squares to the superior circles), much of this simply goes on too long to remain compelling. Then there is the matter of the women of Flatland, sure to enrage feminist readers everywhere because of the low regard held for their social and intellectual development, a matter directly related to and in keeping with the nature of their shape, which is rather needle-like, thus necessitating the ever-vocalized peace cry so as to avert accidental disaster should an unwary traveler come into contact with one of their pointy ends. The rather phrenological rules regarding the nature of personality come out here in fullest force, no doubt due to the danger presented by women to all, and though this as well as much of the rest of the story may be read as thinly veiled social commentary, it is equally interesting to read as an explanation of a genuinely alien culture, though one not so utterly opposed to our own that we fail to understand it, or what Abbott may be using it to tell us. After all, in Flatland, the more regular a figure, the more certainly moderate and socially acceptable. The more irregular, the more certainly it is criminal or dangerous.

It is in Part II that the story finally departs from its exploration of Flatland and makes good on the promises of the preface, in which we discover why A. Square has languished in prison for seven years without hope of release. Namely, it is because of the special knowledge acquired by his revelations of both lower and higher dimensions. You see, the ethnocentricity of Flatlanders is such that no notions of other, perhaps even better, worlds are tolerated. These are two-dimensional folks, after all, and so we come to realize just why A. Square is imprisoned, and we feel poignantly his suffering and loss when the revelations that were once so clear to him fade, become mere shadows of their former selves, and ever elude his attempts to explain. He is a man who received the gospels of truth, suffered for trying to share them, and thus longs for the days when they were once so clear. It is the emotional heft of this last part that helps save an otherwise uneven work. It brings us back to A. Square in his prison, which is essentially the same place we started, and serves to remind us that knowledge in a world that's not ready for it can be a tricky beast indeed.

*Editor's Note: because Flatland is such an old book, it has long been in the public domain, and so you may find it from a number of publishers, at various prices. The Signet Classics edition I have listed is the most reasonably priced, but contains no notations or introductions by anybody famous. Just the facts.
Click here to buy Flatland: A Romance of Many Dimensions, by Edwin A. Abbott on Amazon
Flatland: A Romance of Many Dimensions, by Edwin A. Abbott on Amazon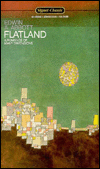 More Books You Might Like
Comment on Flatland: A Romance of Many Dimensions, by Edwin A. Abbott
Comments on Flatland: A Romance of Many Dimensions, by Edwin A. Abbott
Posted by RC on 8/11/2010
Inorder to understand Flatland you have to have an opened mind. This review best summarizes Flatland!
Posted by [ NZ ] on 8/2/2008
I don't even understand a crap out of this book. Thie=s review only helped a little though. =X
Posted by Anon on 4/25/2008
This book sucked and
I fell asleep reading it. It was the worst book I've ever read!
Posted by Steelers!!! on 12/21/2005
This is a good book once you get it. And this review sumarized it perfectly. Thank You.