Girl Blue, by Alan Nayes
Book Review by David Hodge
Jeremy Copper is a world class sculptor, a master of the most difficult medium of sculpture, stone. He is also dying of a brain tumor. He has a very special, and very expensive, block of blue granite for his final and greatest work, Girl Blue. Unfortunately for him, the stone is possessed by the spirit of a not-dead-enough witch.

This creates a HEAP of bad juju! In the tradition of the Next Victim, who goes down the hall and finds the cat, looking at him and hissing, and will not look behind him until he gets munched, Jeremy is so preoccupied with finishing Girl Blue that he forgets the third law of paranoia: Things can always get worse! They do get worse, coming to a suitably horrible climax. It's a horror novel in the classic style.

If you wondered what I meant by the classic style, try Der Erlkonig (The Elf King or The Alder King), Goethe, 1782, The Turn of the Screw, Henry James, 1898, The Beckoning Fair One, Oliver Onions, 1911. The plots are not really congruent with Girl Blue, but there are two key elements: a supernatural presence, and a psychological element.

I do not do this very much, but this book gets an A in my book.
Click here to buy Girl Blue, by Alan Nayes on Amazon
Girl Blue, by Alan Nayes on Amazon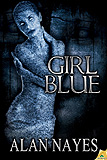 More Books You Might Like
Comment on Girl Blue, by Alan Nayes
Comments on Girl Blue, by Alan Nayes
There are no comments on this book.