H. P. Lovecraft Encyclopedia, by S. T. Joshi, David E. Schulz
Book Review by Phillip A. Ellis
It is probably no exaggeration to argue that H. P. Lovecraft is the most influential writer of speculative fiction from the first half of the twentieth century. Not only have his works generated the entire Cthulhu Mythos in their wake, not only has he influenced most subsequent writers of weird fiction, and many of his contemporaries, and not only have his works remained a fruitful source of adaptations, he has proved instrumental in the blurring of categories, mixing horror with science fiction, fantasy with philosophy, and creating a rich and complex oeuvre.

Yet, his total body of extant work far exceeds this focus on genre fiction. His collected essays will fill five volumes, his poetry has been collected into one massive collection, and his total number of letters are still in the process of being published. He was, then, much more and other than just a weird fictioneer, and this encyclopedia not only reflects this, but reinforces this reading.

For the most part, the emphasis is upon the fiction. Entries cover not only the titles, but also significant characters. Typically, they summarise the story, and give further information. Most also have potted bibliographies, listing significant studies of the individual works. Similar entries exist for the major poems, and the major characters also have entries. The information in these entries is succinct and to the point, wasting no space on irrelevancies or trivia. On the whole, these entries succeed in conveying a basic introduction to the work of Lovecraft, and they form a very cogent reason for purchasing this book.

In addition, amateur and professional colleagues also get their own entries. Here, the emphasis is on their relations with Lovecraft, and with giving some idea, for those who are writers, of their significant works. Again, the entries are succinct, and they easily convey the range of Lovecraft's contacts and friendships, easily belying any accusations of him being a recluse.

Although the bulk of the entries focus on the work and contemporaries, on the various titles and figures, there are also lemma on several topics. Each of these is, once more, succinct, yet at the same time they remain authoritative. These three groups of entries make up the bulk of the book, however, they are supplemented by both an index and a comprehensive bibliography. Taken as a whole, then, this book is an invaluable reference; it would do well to keep a copy by your side when you tackle Joshi's biography of Lovecraft, as the entries would illuminate and enlighten on the occasions when used.

Having said all this, there are, nonetheless, problems. Notably, there is a lack of cross-referencing between most of the entries. This limits the encyclopedia's efficaciousness, naturally, and interesting and useful entries could easily be missed. Also, the emphasis on the fiction, and, to a lesser extent, the other non-epistolatory works, disguises the wealth and richness to be found in the letters. A greater indication of the breadth of Lovecraft's interests, and his thought, would be more than welcome, especially where they would illuminate other works.

On the whole, though, this is a masterful production. It will remain the standard general reference to Lovecraft and his works for a long time yet, and should be in the hands of every serious fan and Lovecraft scholar. As such, then, it remains indispensable, and a marvellous overview of Lovecraft's achievement.
Click here to buy H. P. Lovecraft Encyclopedia, by S. T. Joshi, David E. Schulz on Amazon
H. P. Lovecraft Encyclopedia, by S. T. Joshi, David E. Schulz on Amazon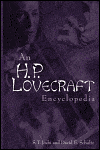 More Books You Might Like
Comment on H. P. Lovecraft Encyclopedia, by S. T. Joshi, David E. Schulz
Comments on H. P. Lovecraft Encyclopedia, by S. T. Joshi, David E. Schulz
There are no comments on this book.