Habeas Corpses, by Wm. Mark Simmons
Book Review by Steven Sawicki
This is the third book in Simmons 'Halflife Chronicles," a loosely connected series revolving around the character of Christopher Csejthe. Csejthe is special because he's been infected, through a blood transfusion, with one of the two viruses that turns the living into the undead. This half-breed status makes him special in other ways as well, which you'll learn if you read the series.

This book follows Csejthe as he attempts to deal with his rise to power in the New York Vampire cabal, his engagement to a werewolf and all the trouble that will bring him, the attempts of a mad Nazi scientist who wants Csejthe's blood for immortality experiments, a South America Demon slowly working it's way north to Csejthe, and the zombies who live next door to his house who complain about what's on television.

The book is written in a very light style; with a tongue in cheek approach to dialogue that throws puns more often than not. This style also covers the approach to plotting which seems to place more importance on a good gag than it does on and sense of logical conclusion. This is not necessarily a bad thing assuming you can go along with the flow rather than get bogged down in wanting to find all the ways the character should have done things instead of the way he did them. One has to assume that the character has made choices based on who he is as a character. In other words, approach this book with the fun it intended you to have when reading it.

As with the spate of other vampire and werewolf related books that have come out in the past couple of years, Simmons has created his own mythos to explain both and this is critical to the plot so it helps to pay attention to these things. The flow of the book is very smooth, very well paced and a page turner. The characters are interesting and the situations, albeit it a bit far fetched, but then we are talking about a book about vampires and werewolves, interesting if a bit cramped together. I enjoyed it.
Click here to buy Habeas Corpses, by Wm. Mark Simmons on Amazon
Habeas Corpses, by Wm. Mark Simmons on Amazon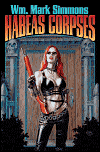 More Books You Might Like
Comment on Habeas Corpses, by Wm. Mark Simmons
Comments on Habeas Corpses, by Wm. Mark Simmons
There are no comments on this book.