Haggopian and other Stories, by Brian Lumley
Book Review by Michael D. Griffiths
"And those rubbery appendages drew the crushed bodies back into the inky darkness, from which there instantly issued forth the most monstrous nauseating slobbering and sucking before the writhing members once more snaked forth into the dawn light."

Haggopain is a collection of Lumley's earlier Cthulhu Mythos stories. These 24 stories were originally printed between 1969 (Cement Surroundings) and 1989 (Synchronicity or Something). They include such classics as the cover story Haggopain, The Thing From The Blasted Heath, and House of Cthulhu, which has been reprinted no less than 10 times.

When it comes to writing horror Lumley is prolific, to put in mildly, and this is his 30th book to be published. Much of his work has focused on Vampires and other creatures not completely associated with the Lovecraft mythos, however, when it comes to paying an honorable tribute to Lovecraft, there are few than have done better.

One of the things I appreciate about Lumley's approach is his constant attempt to find original methods of bringing the horrors of Lovecraft forth, while still staying true to the mythos. Hundreds of authors continuously attempt to recreate Lovecraft's legacy, and most do a fine job, but many often tend to get trapped within a formulaic structure of what they think a Lovecraft story should contain. This is not an issue with Lumley, for he takes the concept and finds dark recesses filled with new horrors and exposes them to the world.

I felt I was in the presence of a master as I read through these tales. They were each truly disturbing and as the winter winds whipped my house in the darkness, I rechecked to make sure I had my weapons handy.

Personally, I found the cover title Haggopain one of the most unnerving of the tales and I can see why it was thus honored. In this story, an unfortunate accident allows a sea lamprey to feed off of Dr. Haggopian. This horrifying event had side effects no one could foresee, such as the curse of evil dreams that would haunt Haggopain with visions of R'lyeh and other sunken terrors. Soon however, the horror intensifies and the narrator discovers that allowing the lamprey to feed on him, has become an addiction for Higgopain and this is just the beginnings of the once proud doctor's downfall.

There is no doubt that Lumley does Lovecraft justice and his newest book is a fine additional to any fan's library. If there were any complaint mentioned, it would be that his introduction is too short and it might have been interesting to learn more concerning the author's personal motivations. However, Lumley does make up for this by providing a detailed introduction to each story. At six hundred pages this book will leave any Cthulhu Mythos fan pleased and yet begging for more.
Click here to buy Haggopian and other Stories, by Brian Lumley on Amazon
Haggopian and other Stories, by Brian Lumley on Amazon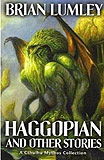 More Books You Might Like
Comment on Haggopian and other Stories, by Brian Lumley
Comments on Haggopian and other Stories, by Brian Lumley
There are no comments on this book.