Homeward Bound, by Harry Turtledove
Book Review by S. Fazekas
Homeward Bound is the epilogue of Harry Turtledove's WORLD WAR series. This series deals with an invasion of the Earth by "The Race," small lizard-like aliens. This last (?) book of the series deals with the aftermath of the Race's attempted conquest of Earth.

The Race has a real problem. Their invasion suffered setbacks; in part due to the addictive quality ginger has on the aliens and in part due to humanity's tenacity. Humanity also has proven itself far more adaptable than anticipated. Actually, humanity has shown itself far more adaptable than the Race can imagine. In just a few decades, mankind achieves interstellar flight and launches the "Admiral Peary" on its maiden voyage. The Peary heads straight for the Race's home planet on a diplomatic mission. The rest of the story turns on the diplomatic maneuverings that take place on the Race's home planet. The Race must face the prospect of tumultuous change - something they cannot even contemplate -- or initiating a pre-emptive war they are unsure they can win.

Turtledove tells the tale through the eyes of a number of exceedingly well-crafted characters, both human and alien. The story develops quickly, albeit with a good deal less action than the usual fare he offers. Diplomacy is naturally less flashy than conflict, but Turtledove is at his best in presenting believable protagonists set in situations too big for them. He absolutely creates sympathy for the Race, no mean feat considering his all-human readership.

Turtledove goes far beyond the 'first contact' nature of this piece, and discusses such weighty topics as race relations in America, ethics, and the rules of warfare. It is truly remarkable how he can thread the needle on these sorts of issues and still deliver an entertaining tale. And although Turtledove's own website proclaims this story the epilogue of this series, it ends in a way that will leave readers wanting more. The twist at the end not only complicates the situation for the Race, but also for humanity in a way the human protagonists have never even considered.

For those not familiar with Turtledove's WORLDWAR series, this novel as a stand-alone story will certainly whet the appetite for more.
Click here to buy Homeward Bound, by Harry Turtledove on Amazon
Homeward Bound, by Harry Turtledove on Amazon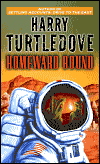 More Books You Might Like
Comment on Homeward Bound, by Harry Turtledove
Comments on Homeward Bound, by Harry Turtledove
There are no comments on this book.