Human for a Day, edited by Martin H. Greenberg, Jennifer Brozek
Book Review by Joshua Palmatier
The Mainspring of His Heart, the Shackles of His Soul by Ian Tregillis: The anthology starts off with a steampunk story and tick tock automaton who, in cohoots with his human best friend, hopes to find the key that would free him from servitude and give him a soul. All he has to do is escape the ship he works on while in New Amsterdam and find the Underground Railroad. A cool, touching story to start of the anthology.

The Blade of His Plow by Jay Lake: In this story, we get to see Longinus, cursed to live forever as punishment for his role in what happened that "one hot morning in Judaea." He's drawn to battle and sees many horrific sights as penance before someone arrives and makes him mortal for a day, his punishment over. An interesting take on Longinus and the many stories surrounding his name.

Cinderella City by Seanan McGuire: We return to San Francisco in 1901 and the character Mina, an alchemist and bartender first introduced in a story in the anthology After Hours: Tales from the Ur-bar for this story. Here, the city of San Francisco itself is given human form as the Summer King continues his battle to keep his position. Lighter fare than the first two stories, but fun. Just remember not to piss off your own city, just in case.

Tumulus by Anton Strout: Every hundred years, Mongfhionn, a banshee, rises from the dead for a day and the main character Jeanine is there to take advantage of it this time, with wards to protect herself. All she wants is a boon, but things don't go as she planned. Mongfhionn is suitably terrifying here. A good use of her legend as well.

The Sentry by Fiona Patton: In this case, a statue of a lost soldier comes to life for a day as his remains are finally found. He uses his time to help a few fellow soldiers find their way home . . . or find a new purpose in life. A touching story of war and youth and loyalty.

Ten Thousand Cold Nights by Erik Scott de Bie: This is the story of the rivalry between two swords, the Bloodsword and a Soulsword. The Bloodsword doesn't understand why the Soulsword continues to defeat him when he is stronger. He may find his answer on the day he learns to manifest himself in human form. This story read more like a legend and was perhaps a little rambling.

Mortality by Dylan Birtolo: Deniel is an angel and for one day he is given human form in order to test his faith. And the circumstances Denial runs into while in human form certainly challenge his beliefs.

The Dog-Catcher's Song by Tanith Lee: Here, the family dog, loved by all, is given human form and he uses it to its fullest advantage. But not everyone in the family is willing to accept magic in their lives, and this one day of freedom changes everything.

Mortal Mix-Up by Laura Resnick: A young teenager casts a spell in order to switch bodies with her "vampiric" best friend, so she can steal her life and boyfriend, but the spell goes horribly wrong when it targets a real vampire in the vicinity. The story is from the vampire's perspective, waking in a human form, and the author uses this POV to hilarious effect. I enjoyed this story a lot. Perhaps the best in the anthology in terms of sheer fun.

Band of Bronze by Jean Rabe: Although this one comes in as a close second for fun. The statues of Central Park--including the Mad Hatter, William Shakespeare, a marine, and a duck--in order to defend their park from pickpockets, drug dealers, and gangs. A great take on the individual characters, with some decidedly touching moments as well.

Zombie Interrupted by Tim Waggoner: We return to P.I. Matthew Richter, currently a zombie, in the city of Nekropolis. In this case, he's after a wand that turns things into silver, but before he can get far in his search he's forced to use a coin to turn himself into a human. He's got one shot now to back home to his significant other for their only chance at having a kid . . . but of course all of Nekropolis is out to get him (or so it seems.

Beneath the Silent Bell, the Autumn Sky Turns to Spring by Eudie Foster: A story in a non-traditional setting here, about two lovers. One thought she was rejected and sought vengeance, but as the story unfolds--all surrounding a particular bell--the real story is unraveled. I liked the mysticism here, and the use of the "day as a human" theme, with a few twists.

The Very Next Day by Jody Lynn Nye: In this story, Santa gets a day of actual true life, a magic made possible by the intense belief in his existence that came the day after Virginia's letter was printed in the newspaper. Finding himself on the streets of New York City, Santa goes to see the man who wrote the editorial in answer to Virginia's letter. I liked the story quite a bit, but still felt that something MORE should have happened here. I'm not sure what myself, but still . . .

The Destroyer by Kristine Kathryn Rusch: The main character here is a wild male cat who simply wants to defend his territory. But when it's invaded by the Destroyer, he finds he must use the cats' pact with the faery to help him. Cat lovers will love this one, of course.

Into the Nth Dimension by David D. Levine: This was a totally unexpected take on the theme, fitting it perfectly, but not something I would have thought of myself. I find I don't want to ruin the reveal, so suffice it to say that the story was well-written, interesting, and even had a little social commentary woven into it as well. More serious than it would at first appear anyway. Perhaps my favorite in the anthology simply for the surprise of the idea.

Epilogue by Jim C. Hines: This is a darker story from Jim, which should no longer require comment since he's been doing it--and doing it well--for a while. Here, Clair is caught in a coal mine collapse and uses her cell phone and her father's old stories to connect with her dead father once again. A subtle use of the theme of the anthology and a somber end, but an excellent story as usual.

Click here to buy Human for a Day, edited by Martin H. Greenberg, Jennifer Brozek on Amazon
Human for a Day, edited by Martin H. Greenberg, Jennifer Brozek on Amazon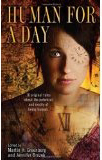 More Books You Might Like
Comment on Human for a Day, edited by Martin H. Greenberg, Jennifer Brozek
Comments on Human for a Day, edited by Martin H. Greenberg, Jennifer Brozek
There are no comments on this book.