In The Midnight Museum, by Gary A. Braunbeck
Book Review by Lynn Nicole Louis
I've never heard of Gary A. Braunbeck, but I'm certainly going to keep an eye out for him in the future. I first cracked In the Midnight Museum while sitting at my computer checking email after arriving home from work. I finished that same night, just before 11:00. I would have finished it sooner, but the mundane activities associated with managing a family pulled me away.

In the Midnight Museum isn't novel length; I'd put it around 50,000 words or so, but that's not the reason I finished it so quickly. I hadn't planned on reading it just yet. It was sitting on my desk along with all the other books I owe Dave reviews on. I was on hold with my health insurance company and it was right there, so I flipped it open and began to read, only putting it aside to attend to the requisite functions required to run a family of four. That night I finished it.

Mr. Braunbeck kicked off the story with an engrossing scene, drew me in, and kept me reading. I resented having to put it aside. It's one of those books where you look up for a moment and sort of have to remind yourself that this, not the book, is the real world. It's more than just entertaining too; he throws in some questions that most of us, at least most of us over 30 anyway, have probably asked ourselves on more than one occasion.

Paraphrasing from the blurb on the back.... Martin Tyler is a 44 year-old custodian who finds himself at a crossroads of dead ends. In the depths of depression, he attempts to take his life and instead ends up in the local metal hospital, and involuntary guest.

Yet during that failed suicide attempt, something happened. Martin at first tries to write it off to a combination of the drugs he took, but the strange visions don't go away. Instead, they seem to be increasing.

Martin meets another inmate who is—pardon the cliché—both more and less than he seems. From him, Martin learns that perhaps life, and his in particular, has a purpose after all, and that a moment of kindness can resonate through his destiny years later.

Now all he needs to do is figure out a way out of the hospital and way into the Midnight Museum, where his actions will determine the fate of the world.

Braunbeck makes some interesting speculations on the nature of God and reality. I found In the Midnight Musem to be a quick-paced yet thoughtful read, with an utterly convincing characters and situations. It defies easy genre classification; the closest being perhaps dark fantasy with a strong twist of the surreal.

It's easy for me to encourage you to go get this one. You'll devour it as quickly as I did, and enjoy just as much.
Click here to buy In The Midnight Museum, by Gary A. Braunbeck on Amazon
In The Midnight Museum, by Gary A. Braunbeck on Amazon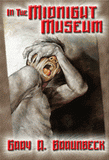 More Books You Might Like
Comment on In The Midnight Museum, by Gary A. Braunbeck
Comments on In The Midnight Museum, by Gary A. Braunbeck
There are no comments on this book.