In an Iron Cage, The Magic of Steampunk, edited by Danielle AckelyMcPhail
Book Review by Michael D. Griffiths
In an Iron Cage, The Magic of Steampunk is a fourteen story anthology edited by Danielle Ackey-McPhail, Electra Hammond, and Neal Levin. Steampunk seems to be getting more popular each year. Whether it is new Hollywood blockbusters, full length novels, or numerous anthologies, Steampunk is being exposed and enjoyed by more people than ever before. This anthology, however, takes a different twist on the genre and incorporates a world where Magic is real and works alongside and often fights with the various forms of Steampunk technology.

The anthology begins with The Winter Court by Bernie Mojzes. When royalty wants there to be an island where none exists, this proves to be a problem for even the most inventive minds in London. However, they might end up causing more trouble than such a whim is worth, when they manage to yank and island off a different world, which comes complete with its own military.

Second, we have James Chambers' House of Automatons. This is a fun and inventive tale where a gentleman and his lady-witch ally must face task after deadly task. The robotic automatons are programed to play by a set of rules; unfortunately these rules are far from fair and could, with the smallest mistake, claim their lives.

Drinking Down Death was next. This story by Jeff Young finds the unlikely alliance between a constable and a spiritual medium. When the other mediums in London start to go missing, one can only begin to guess what their magic infused bodes are being used for.

Brenda Cooper's Speaker for the Mayans, finally removes us from foggy London and takes us into the middle of the harsh jungle. Yet how can Londoners hope to survive not only the wilds, but also learn more about the marriage of Magic and Science, which has started to take root there?

To Love and Hope by C.J. Henderson is a tale where men construct a ship, called the Verne, and hope to use this vessel to pass into a new and unexplored dimension. However, they might not have wished to travel there if they knew that their very existence challenged this other world's reality.

Stuart Jaffe comes at us with, Little Girl with Pink Ribbons. When a boxing promoter is asked to watch a young girl during his big Magic versus Machine fight, he thought this would be his biggest problem. But when thugs ask you to do something, there are times you have to say yes. Yet, he ends up becoming a hero more for himself and the girl over any obligation he has to them.

Scoundrel's Magic was written by James Daniel Ross. Adam Venture is a slick character who is making himself rich selling mythological creatures to royalty. The problem is the way he is summoning them is creating a rift, which might let something worse into our world. This story started like many of the others with more dialog and tricks, but then became quite a dark and adventurous tale. Venture's foppish nature does not prevent true terror striking out against him and his. This story excelled and was certainly one of the best within the collection.

One of the editors, Danielle Ackley-McPhail, presents her story, On the Wings of an Angel. This is a shorter story. It also takes place in Montana which was a nice change from the majority of the stories which take place in London. Mr. Clayton makes a lot of strange machines, but could he make an angel?

A.C. Wise writes The Trans-Siberian. Not only is there Magic and Steampunk in this tale, there is also a race of Were-fox that adds a new twist, especially when the father of the woman our hero is guarding was responsible for being brutal to that race. Ren needs to hope that being half-fox himself will be enough when revenge comes calling. This was another inventive story that stood out from the pack. It was concise, yet filled with a level of action that should have most readers hurrying to turn the page.

The First Flight of the Valhalla, by Darren W. Pearce is another story that excels. It takes fantasy standards and thrusts them into a Steampunk world where Drow Elves fight flying Dwarf battle ships. The Dwarfs are particularly upset since the Drow fuel the Magical aspects of their ship with crushed Fairies. This was another unexpected gem and an enjoyable read.

Another editor, Elektra Hammons, brings us The Case of the Duchess's Dog. This was another fun tale. A sort of CSI in the Magic/Steampunk world. Strange that the author had the action revolving around a dead dog, but she makes it work and I could see this character, Annabella Hastings, being used in other short stories.

That Voo Doo That You Do, by Patrick Thomas was another story that stood out in the collection. A character calling himself Spellpunk rescues a girl falsely accused of witchcraft, okay maybe she is a witch, but she should be rescued anyway, although others will strive to see him pay for his arrogance.

Alma Alexander brings us the most eerie story in the collection. Iron and Brass, Bone and Bone revolves around the concept of body and soul. Does one need the other to survive, but when the designer of the construct of metal and brass accidentally sends his soul into his creation they both suffer.

Lastly David Sherman brings us and outstanding tale called, Greater Crater Gremlins. This story takes place in the Wild West, but it is a different west than any we have ever seen. Huge land ships move across the deserts and like all machines they can fall prey to...Gremlins. Action, adventure, romance, the recipe for a good western in anyone's book.

This anthology will appeal to all lovers of Steampunk. The generous use of Magic makes it a little different from the norm, but also opens up more fantastic possibilities within the genre. Some of the scenes were a little too uptight for some tastes. In some of the stories dialog dominated action and many of the characters were so slick you felt little fear that they would fail. Other stories more than make up for this. In an Iron Cage is a strong well produced anthology that should appeal to Steampunk as well as Fantasy readers.
Click here to buy In an Iron Cage, The Magic of Steampunk, edited by Danielle Ackely-McPhail on Amazon
In an Iron Cage, The Magic of Steampunk, edited by Danielle Ackely-McPhail on Amazon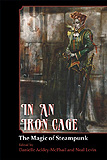 More Books You Might Like
Comment on In an Iron Cage, The Magic of Steampunk, edited by Danielle Ackely-McPhail
Comments on In an Iron Cage, The Magic of Steampunk, edited by Danielle Ackely-McPhail
There are no comments on this book.