Installing Linux on a Dead Badger, by Lucy A. Snyder
Book Review by Adrienne Jones
It is time for the geek to inherit the earth. Installing Linux on a Dead Badger is no ordinary collection of short stories, but more of a progressive theme that expands a bit more with each colorful segment, like a cybernetic Cthulhu from Hell, stretching out its tentacles and taking over every aspect of life as we know it.

When I say it starts small, I mean literally, as in technologically reanimating bunnies and badgers. But with all technological advancement, things swiftly get out of control and overtake the norm; electronically programmed squirrels attack a band of homeland security agents; large corporations replace mini wage workers with zombloyees, and corporate computer networks require a diet of raw meat to appease the cross dimensional glitches and keep out the trolls and faeries.

"Our help desk staff told us users were complaining that their computers were possessed by evil spirits. But the secretaries have always said that about our Windows machines, so we blew it off."

The humor in this collection is understated and the theme progression is perfectly paced. As the computer based reanimation transitions from animals to humans, society is amended accordingly to include such things as 'cryptos', live humans faking undead to keep their jobs, along with a new practice of zombifying soldiers to get them back in action after being shot, as it's "downright un-American to just lay there and rot when you could be doing your part for the nation's economy."

It's rare to find a writer that can combine social commentary, popular culture, and science fiction without cheapening the laughs, but this author's balanced the act to perfection. With smart, well crafted writing, and humor to tickle readers of varying tastes and genre preference, Lucy A. Snyder could be one of the funniest new writers on the planet.
Installing Linux on a Dead Badger, by Lucy A. Snyder on
Amazon
Installing Linux on a Dead Badger, by Lucy A. Snyder on Amazon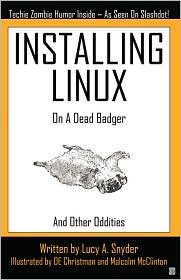 More Books You Might Like
Comment on Installing Linux on a Dead Badger, by Lucy A. Snyder
Comments on Installing Linux on a Dead Badger, by Lucy A. Snyder
There are no comments on this book.