Interzone 198, edited by Andy Cox
Book Review by Sheri Fresonke Harper
Interzone Magazine is a UK publication of high quality science fiction and fantasy. The original art cover by Kenn Brown set the tone for this month's content, metallica faces and exploding minds in a futuristic setting.

Throughout the magazine, the reader encounters many well-drawn illustrations ranging in style from line drawings, personal photos, and graphic arts. A little vision aids never hurt. Especially when you read unique stories like the following:

"Piccadilly Circus" by Chris Beckett presents a real world occupied by elderly persons who live a life subsidiary to a virtual world. The conflict involves the rescue of one elderly woman who is unable to care for herself and provides a shift in how one views society.

"Go Tell the Phoenicians" by Matthew Hughes presents a mystery that involves tracking down the population on a planet that looks to be entirely pleasure loving. The hero figures there's something wrong and tracks down the rest of the population with a neat twist on Imperialism.

"Bastogne V.9" presents a virtual World War II game where the protagonist has a new unit member. Conflict comes from the new unit member who is a game player unknowing it's a game and capable of real sensation.

"The Court of the Beast Emperor" by Douglas Sirios starts with a man in love that endures great hardship to win her. It's a great psychological drama that conveys a sense of brain washing.

"The Clockwork Atom Bomb" by Dominic Green is set in a futuristic Congo where the hero finds a store of bombs. The protagonists quest to save the world from imminent destruction serves as showcase to a cultural clash.

In addition to stories, an article by Mike O'Driscoll is a humorous take on review writing, Rick Kleffel interviews Kazuo Ishiguro, and a variety of book and movie reviews, news and an editorial.
Click here to buy Interzone 198, edited by Andy Cox on Amazon
Interzone 198, edited by Andy Cox on Amazon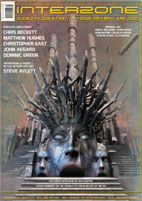 More Books You Might Like
Comment on Interzone 198, edited by Andy Cox
Comments on Interzone 198, edited by Andy Cox
There are no comments on this book.