King Kong: The Island of the Skull, by Matthew Costello
Book Review by C. Dennis Moore
I don't know how long they've been around, but I've only noticed it lately. I know movie novelizations have been around forever, but what's with the prequel novels? I recently read the movie prequel for the Transformers movie, "Ghosts of Yesterday," and while it was a decent enough book, having seen the Transformers movie, I can tell you it really had no impact on the story. You don't need to read "Ghosts of Yesterday," to understand the movie. The same is true of Peter Jackson's "King Kong" remake and its "movie prequel", The Island of the Skull, written by Matthew Costello.

It's not a horrible book, but I'd like to know whose brilliant idea it was? 'Kay, we're gonna write a prequel to Kong but . . . well, the big Kong reveal is Peter Jackson's, so we're not actually gonna have Kong in the novel. We'll mention him, he'll be more a presence in the book, but won't really appear. We'll have Ann Darrow and Carl Denham but since they don't actually meet and set off on the journey that leads to their discover of Kong until the movie, well, they can't meet in the novel. In fact, since Kong is pretty much the most important thing they're ever gonna do in their lives, their roles in the prequel are gonna be more filler because the real story isn't much. What's the real story?

Well, remember the map Jack Black's character Carl Denham had in the movie that led them to Skull Island? We're gonna tell the story of the ex-Navy diver, Sam Kelly, who drew the map and how he found the island, and then how it wound up in Denham's hands. That counts as a prequel to the movie, right? And then, for familiarity's sake we'll show a bit of Ann Darrow leaving New York City for a brief stint as a horse diver in Atlantic City, and we'll tell a little about how Denham's cameraman lost his leg to a pack of seals. Yeah, that'll fill the novel.

Riiiiiiight.

I imagine Costello had lost a bet and he had a choice between taking out Joanne Greenwald and writing this novel. It's not that Costello is a bad writer, just the opposite. He's good. He writes decent dialogue, he's passable with the descriptions, can set a scene I suppose, and his climax contained lots of action verbs. The problem wasn't the writing, it was the story, or lack thereof.

Is there honestly any reason in the world anyone needs to read about how the only job Ann Darrow could get before the events of "King Kong" were diving into the ocean on the back of a horse for an Aquacade attraction? It sounds mildly exciting, sure, but, ...? How does that relate to King Kong?

Does it make a bit of difference to anyone that Carl Denham had drinks with Jack Driscoll at "21" where he met Eugene O'Neill? Seriously? Does it matter? Unless the manager of "21" loans Denham money for his trip to Skull Island, I don't see why this scene matters, other than it sets up Driscoll writing the movie Denham is filming in "King Kong." But you ask me, that aspect of the movie didn't need any further explanation, the introduction of "This is Jack Driscoll, he's writing the movie" would have been enough for me.

I'm just having a hard time justifying this novel, and if I can't justify it, can I honestly recommend it?

But that's were the problem comes in, because, like I said, it's not a horrible book . . . it just seems pretty pointless. We know what comes later--unless there's some shmuck out there who actually read this book before seeing the movie--so we know no danger befalls Darrow or Denham (holy crap there's a lot of characters in this thing with last names that start with D!), and it's only about a third of the way through before things begin to fall into place and we realize where the Sam Kelly storyline is going and how it's gonna end. There are absolutely no surprises here, VERY little excitement, and not much importance.

Read it if you want, it's not bad, but don't think for a second it's necessary to the enjoyment of King Kong.
Click here to buy King Kong: The Island of the Skull, by Matthew Costello on Amazon
King Kong: The Island of the Skull, by Matthew Costello on Amazon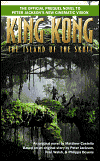 More Books You Might Like
Comment on King Kong: The Island of the Skull, by Matthew Costello
Comments on King Kong: The Island of the Skull, by Matthew Costello
There are no comments on this book.