Kitty and the Silver Bullet, by Carrie Vaughn
Book Review by Jennifer Hairfield
Welcome back faithful readers to the fourth installment of our favorite werewolf and late-night radio DJ, Kitty Norville. Like in all of her books so far, Kitty tends to be totally stressed out about something. In the first book it was about leaving her pack for a life of her own. The second book had to do with getting rights for the supernatural community, and the third book was about writing her own book and her friend Ben becoming a werewolf. Now in book four, Kitty has to deal with both her old Pack in Denver and her mother's cancer.

All Kitty ever wants to do is take care of her own and stay under the radar; unfortunately, that doesn't happen. Once Denver's Supernatural Society finds out that Kitty is back in town, they force her to choose a side in the vampire uprising for Master of the City. The way they do it isn't very nice either -- most bad guys use threats, cloak and daggers, spies, and brute force and the ones in this novel are no different. But this only serves to make Kitty madder at the situation they've put her in, and facing her past, Kitty finally becomes the person/werewolf she was always meant to be. But will that truly be enough to beat the vampires and the Alphas of her old Pack?

This novel finally gets a few questions answered and new friendships made. The reader also finds out that there are bigger and badder things out there who would love to get a hold of Denver. Plus, the vampire plans are revealed and new enemies are made. Personally, I think this was the best novel in the series so far. The action/fight scenes were more compelling than the other novels. Not to mention, the reader finds out more information on the vampire world of this series as well as more information on Kitty's friend Rick.

This series is in the same genre as the Anita Blake books and the Mercy Thompson series by R.F. Briggs, but they each have something about their own characters that make them unique and wonderful to read about. Carrie Vaughn gives Kitty enough of a backbone to be a great leader but enough humility to be able to ask for help or advice when she needs it. Definitely pick up this book for a wonderful story and great characters.
Click here to buy Kitty and the Silver Bullet, by Carrie Vaughn on Amazon
Kitty and the Silver Bullet, by Carrie Vaughn on Amazon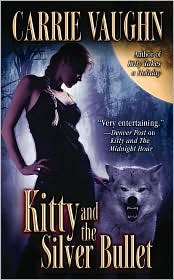 More Books You Might Like
Comment on Kitty and the Silver Bullet, by Carrie Vaughn
Comments on Kitty and the Silver Bullet, by Carrie Vaughn
There are no comments on this book.