Life on Nubis, by Robert Harken
Book Review by Bill Johnson
By 2040, efficient machines displace humans in nearly all Tasks. Unable to contribute too poor to consume, these surplus people fall victim to propaganda from Earth's Emigration Effort and become cargo on interstellar starships launched towards distant solar systems. Aiden Haven, one of the displaced, departs Earth on the eve of parity between human and artificial intelligence.

Believing he embarks on an adventure to resuscitate his life, Aiden underestimates the risks of colonizing an inhospitable new planet. When his daughter, Sarah resurrects the future that the colonists abandoned on Earth -- a future now stalking them -- father and daughter must face forces of nature and earth's legacy or witness the destruction of their colony last refuge.

Rules change or perish. (Life on Nubis, Harken)

Life on Nubis is a fairly interesting story; the colonists eventually end up being ruled by one of their own who decides that she alone is the one who should be in charge and much like all politicians starts deciding what the rules are. She becomes an egotistical ruler who enforces her laws to extreme ends forcing those who dare disagree to work in the mines for the rest of their lives.

Sarah accidentally discovers an artificial life form in a buried colony covered by what everyone thought were sand dunes. This AI in turn helps Sarah and her family and a few of the colonists who wish to escape their tyrannical government.

I rate this story four stars, I think most who read it will enjoy it.

Click here to buy Life on Nubis, by Robert Harken on Amazon
Life on Nubis, by Robert Harken on Amazon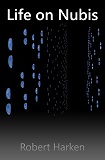 More Books You Might Like
Comment on Life on Nubis, by Robert Harken
Comments on Life on Nubis, by Robert Harken
There are no comments on this book.