Lovecraft's New York Circle, edited by S. T. Joshi, Mara Kirk Hart
Book Review by Phillip A. Ellis
One of the most distinctive literary coteries of the 1920s was formed in New York. A group of men, their surnames starting with K, L or M, formed the Kalem Club, central to which was their most famous member, H. P. Lovecraft. This book collects the letters of one member, George Kirk, detailing his and the club's activities, as well as a collection of miscellaneous writings from club members, including poems, essays and excerpts. On the whole, it is a welcome introduction to this club, and this aspect of Lovecraft's life.

Only a few members, notably Lovecraft himself, and Frank Belknap Long, wrote any real amount of speculative literature. This is not a book if you are only interested in that genre. Instead, it supplements the more widely known accounts of and by Lovecraft, and it opens up to the interested reader with a welcome sampler of his friends' and fellows' work. I myself am a devotee of Samuel Loveman, and it is a welcome refresher of why I enjoy his work.

If you are interested in Lovecraft, buy this book. Likewise with any of the other authors mentioned. Those, also, who would like a welcome introduction to one of literature's neglected groups should likewise welcome this book. Otherwise, it may not appeal to you.
Click here to buy Lovecraft's New York Circle, edited by S. T. Joshi, Mara Kirk Hart on Amazon
Lovecraft's New York Circle, edited by S. T. Joshi, Mara Kirk Hart on Amazon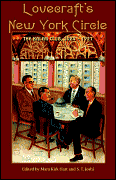 More Books You Might Like
Comment on Lovecraft's New York Circle, edited by S. T. Joshi, Mara Kirk Hart