New Frontier: Missing in Action, by Peter David
Book Review by Jason Garza
Somehow, the cover of Missing in Action seems fitting; the infamous sword bisecting an otherwise uniform picture, a spiral galaxy on either side, the Starship Excalibur in the middle of it all. Not only a metaphor for the book itself, but also for the legions of Star Trek fans out there; one either loves Peter David's "New Frontier" series or hates it. There's no middle ground, and for some time—and I'm certain scholars will debate exactly when—the naysayers claim that David had lost his touch.

Missing in Action should put those criticisms to rest. Picking up where "After the Fall" left us hanging, this new entry into the "New Frontier" saga sees Captain Calhoun and his intrepid crew stuck in the multiverse's largest Jell-O mold, a chess piece on a decidedly empty board, written off as "missing in action" (see how that works?). Caught between the two last remaining species in this particular universe, the crew of the Excalibur finds itself weighing cataclysmic options and wondering when, if ever, they'll return home.

And while Calhoun is busy formulating a plan to pirate alien technology to save his crew, his wife, Admiral Elizabeth Shelby, ponders life without him and, naturally, plots to violate orders and enter Thallonian space. Of course, Soleta, favored of the praetor, also finds herself on a mission, this time with a crew of decidedly fascinating Romulans. Si Cwan deals with the prospect of Civil War, starting with that nagging feeling about his sister. Plus, there's the little matter of the Priatia and the mysterious Wanderers.

Missing in Action is not without its faults, however. Characterization is somewhat thin—meaning if you've not read the previous books you may be a bit lost—and when present it's scattershot, meaning that while Mueller and Lefler receive plenty of build, Selar and Burgoyne do not. Perhaps the third book in this (presumed) trilogy will deal with the Missing in Action's lesser-developed characters. But, if there is one thing Peter David knows how to do, it's tell an absolutely perfect story, with that edge of your seat suspense one comes to expect from an author of his caliber. And when it comes to shaking up the status quo, no one handles it with David's quirky panache and believable sense of humanity.

Granted, the answers to "New Frontier's" greatest mysteries don't all get addressed, but those that do arrive elegantly arrayed on bronze platters so that we eager fans can pick, choose, discuss, and enjoy. Fans have come to expect David's trademarked humor and nail-biting suspense, and Missing in Action delivers on multiple accounts. Missing in Action should put to rest any doubts that "New Frontier"—and Peter David—are getting stale.
Click here to buy New Frontier: Missing in Action, by Peter David on Amazon
New Frontier: Missing in Action, by Peter David on Amazon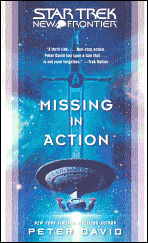 More Books You Might Like
Comment on New Frontier: Missing in Action, by Peter David
Comments on New Frontier: Missing in Action, by Peter David
There are no comments on this book.